*This post may contain affiliate links. Please see my
disclosure
to learn more.
In this no sew tutorial, learn how to make a tie sleeve shirt upcycle from an old tee. Transform your favorite t-shirt with this easy no sew project because you can upcycle clothes without sewing.

I began this reconstruction project with a cropped shirt with wide sleeves. The boxy silhouette really helped to create contrast with the tie sleeve detail.
Do you want to recycle old t-shirt into new clothes so that you can make trendy outfits to wear? Take the opportunity to upcycle clothing and transform your favorite pieces into fun new wearable styles that are relevant to current trends.

These simple no sew t-shirt refashion are a fantastic place to start because they are easy to do and only requires fabric glue for clothes.

Here is a short video detailing the steps to complete this redesign:
However, if you learn a few sewing basics then there truly are endless t-shirt upcycle ideas for you to explore!

Whether you choose to use the no sew hacks or sewing for beginners, showcase your skills and recycle old clothes. The best part of wearing DIY fashion is that you get to say, "I made it myself!"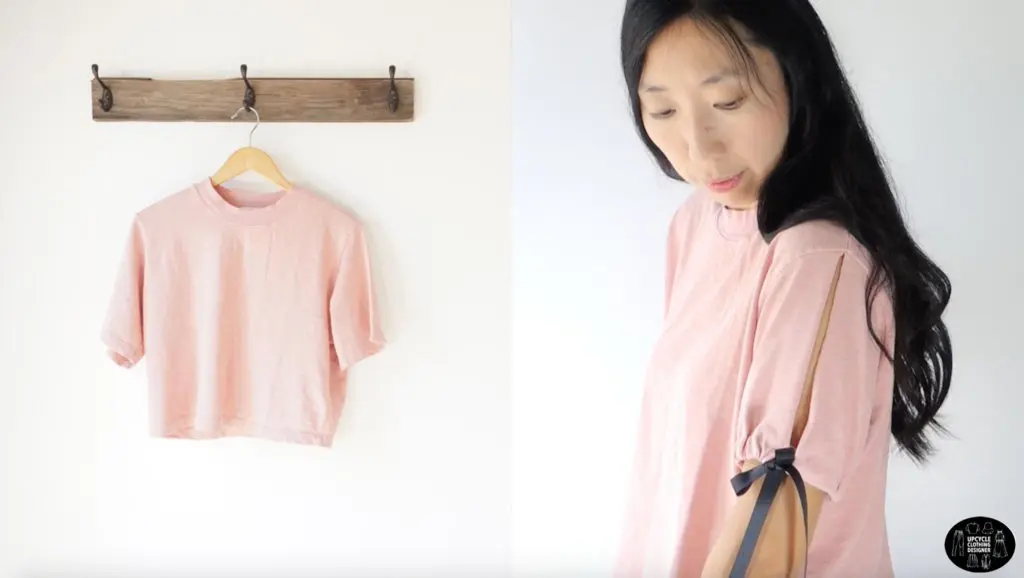 Of course, there are endless possibilities when it comes to this tie sleeve shirt upcycle. Change up the grosgrain tape or the shirt color, and also vary the shirt length if you don't want to wear a crop style.

When it comes to refashion, there are many ways to push the boundaries. The design may even look super cute with the right striped t-shirt as well! Either way, have fun and enjoy the process.
More No Sew T-Shirt Upcycle Projects: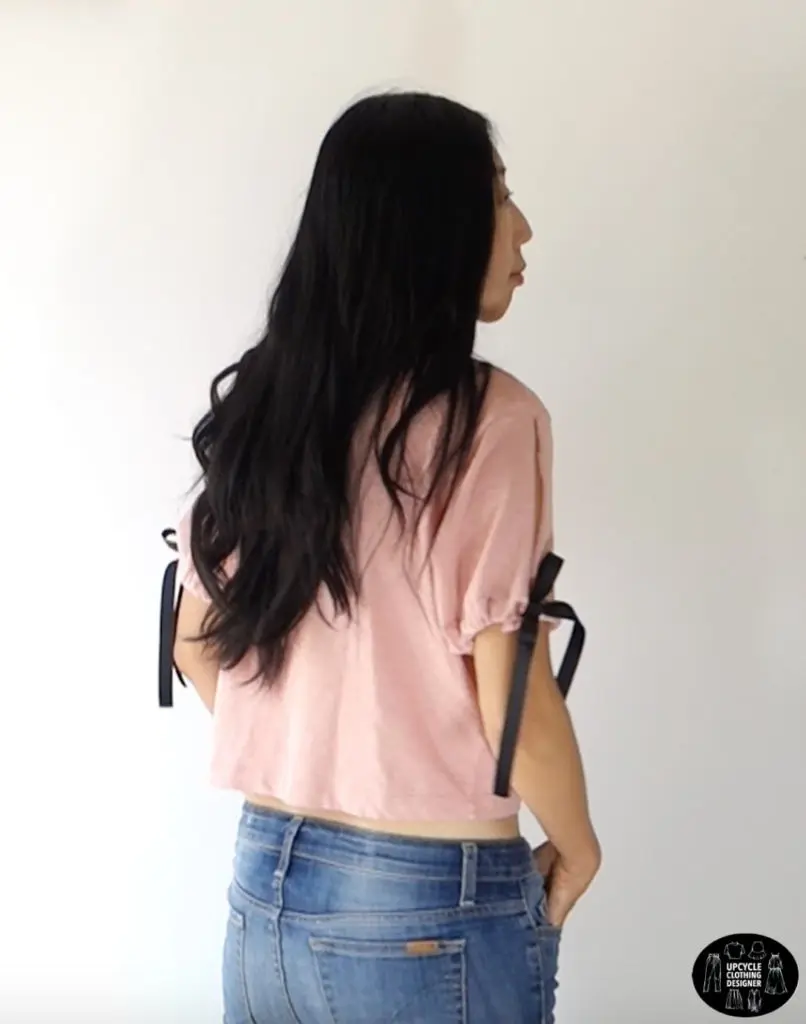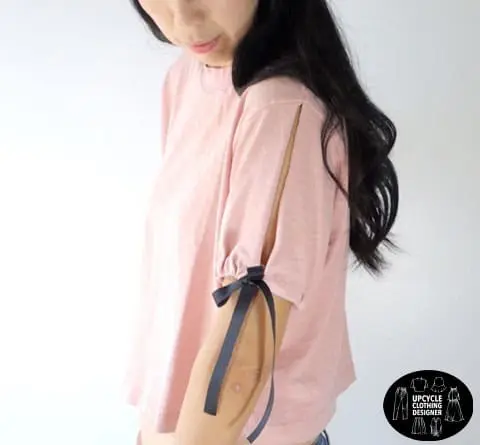 Yield:

1 Tie Sleeve Shirt
Tie Sleeve Shirt Upcycle
Learn how to make an tie sleeve shirt in this easy no sew refashion tutorial. The steps are simple to follow and the t-shirt looks darling. Add this cute top to you capsule wardrobe collection.
Wide sleeves are preferred for this style because you will secure them with a bow and it will create a puffed effect on the shoulder. The finished look is darling and adds accent to the sleeve detail.
Materials
T-shirt (I recommend using a t-shirt that is cropped length with wide sleeves)
Tools
Fabric Chalk
Measuring Tape
Scissors
Instructions
First, flip your t-shirt inside out and lay your sleeve flat along the shoulder seam.

Next, you will be cutting from the sleeve end to shoulder seam.

Flatten out the sleeve that you just cut, and also grab the ⅘" black grosgrain tape.

Measure the black grosgrain tape and cut two separate 38" length pieces, one for each sleeve.
Glue along the sleeve about ⅛" from the edge. Then, fold the glue side over to wrap the black tape. Make sure the edge is completely glued and dried.

Glue and attach the tape to the other sleeve as well.

Try on the tie sleeve shirt. Adjust the sleeve by tying a bow with the grosgrain tape. Make the sleeve tight to your arm to give a slight puff effect!

Notes
For this no sew t-shirt upcycle, I chose a pastel pink crop t-shirt. It has large, wide sleeves that I think will work perfect for this style.

I recommend using a 100% cotton t-shirt because it will work really well for this no sew t-shirt reconstruction. The material has a soft feel and holds secure with the fabric glue.
Recommended Products
As an Amazon Associate and member of other affiliate programs, I earn from qualifying purchases.