*This post may contain affiliate links. Please see my
disclosure
to learn more.
Do you know how to transform a t-shirt into back slit tank top? Let's learn how to cut t-shirt into tank top with a cute back slit detail.
This tutorial details how to transform a t-shirt into a back slit tank top, but there are plenty of easy t-shirt upcycle ideas for you to attempt.
Find more inspiration by exploring these no sew t-shirt refashions. From white t-shirt to graphic tees, have fun transforming your favorite shirts by understanding the various upcycle techniques that are available.
If you're into recycled tees without sewing, then you will love the no sew yoga tops from t-shirts. From workout to casual street style, the muscle tank silhouette with tie knot detail is all you need to look good with your favorite leggings.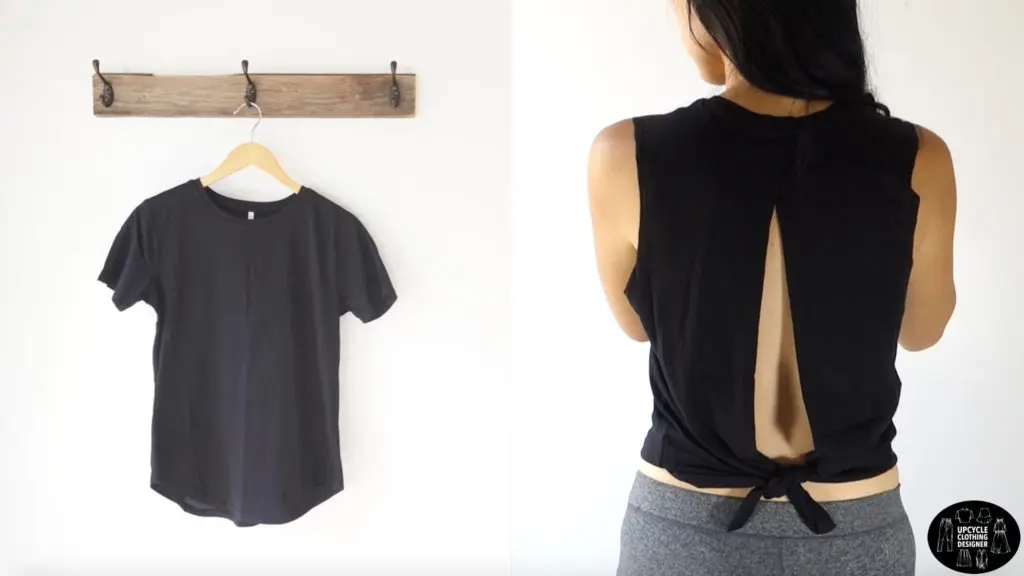 You will love this t-shirt into back slit tank top because…
No sewing is needed.
Learn basic cutting techniques to execute this store-bought quality design.
It's a versatile piece to wear with different outfit combinations.
Perfect beginner level project to learn how to properly measure and cut a t-shirt for right sizing.
All you need is scissor and fabric glue to complete this look!
This t-shirt reconstruction features a back opening that is held together by knotting both ends of the shirt. In addition, the back overlap adds cute detail to the neckline that really accentuates your figure.
Build a DIY capsule wardrobe that is made of old clothes. Follow the tutorial for set-by-step instructions that demonstrate each phase of the project.
How do you cut a t-shirt into a tank top?
When it comes to cool t-shirt cutting ideas, a tank top is fairly straightforward to execute. Spare just a few minutes to follow the step by step video tutorial and you are able to duplicate this easy no sew project.
Start your refashion journey by understanding how to cut tee shirts into cute back slit tank tops. Once you learn what to do with old t-shirts without sewing, it is easy to create fun new looks to wear.
In order to cut a t-shirt into a tank top, all you need is sharp fabric scissor or rotary cutter with a cutting mat underneath.
The lesson shows the right way to take body measurements for clothing, including the armhole and neckline width and drops.
DIY Back Slit Tank Top Materials:
T-Shirt
Fabric Chalk
Fabric Glue
Measuring Tape
Ruler
Scissors
In this tutorial, you'll grasp a introduction to sewing that starts with basic cutting tips. If you are searching for upcycle clothing, then you have come to the right place.

DIY fashion is a huge part of my wardrobe collection. This t-shirt into back slit tank top adds a personalized twist to a workout outfit or casual look.
Turn A T-Shirt Into A Tank Top DIY Tips: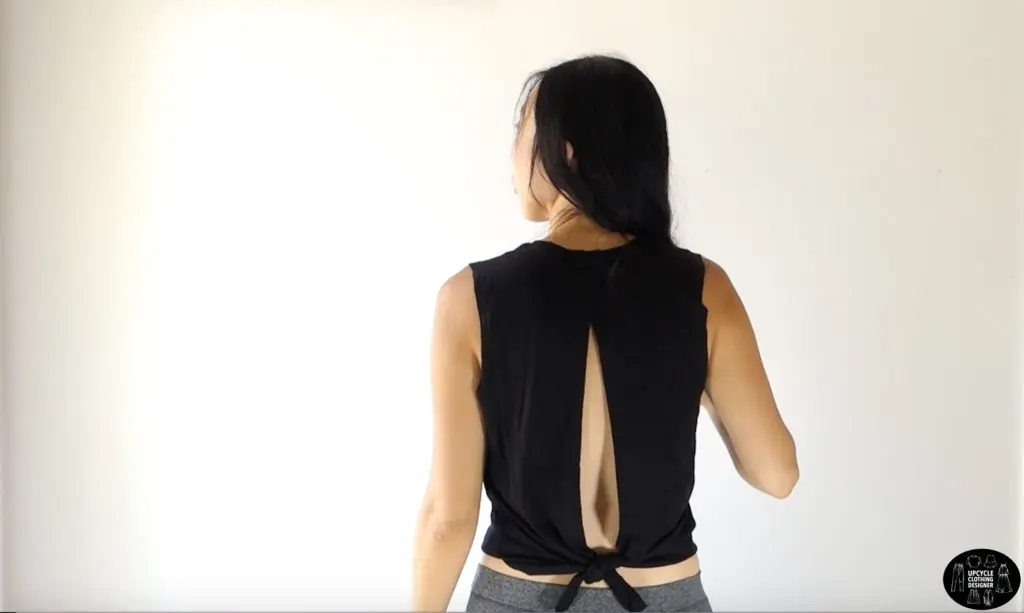 Turn old clothes into new looks and give yourself more cute outfit options to choose from. Utilize these cutting tips and techniques to accomplish a cute DIY workout tank top from t-shirt.
Cutting Tips: When working with very fine lightweight jersey knit, be careful to only pick up the back layer of the tee. You don't want to accidentally cut through the front layer of the shirt at the same time.
Fabric Glue: Always test the fabric glue on a scrap piece to make sure it works before beginning the full application. Smooth the surface and let the glue completely dry overnight before trying it on the clothes. Test the strength of the bond and make sure that you are using a permanent fabric glue rather than temporary.
Save the Remnant: It's always good habit to save leftover pieces of fabric to use for another project. From sleeves, to neckbands or even hemming, scrap fabric is always useful to have around.
Hemming: Since this tutorial is a no-sew project, i would like to share some clothing making basics. When you cut the t-shirt, you will see the cutline keep curling. Don't worry! The knit fabric won't fray, so you can leave it as it is!
Measuring Tape: Make use of a tape measure when working on a garment. The flexible tape is quite different than a plastic ruler, it can easily measure curved lines in longer distances.
More no-sew t-shirt upcycle projects for your next DIY fashion:
Yield:

1 Back Slit Tank Top
T-shirt into Back Slit Tank Top
I made this tank top with back overlap because it will holds the gap open a little bit, and not completely open when in motion. This is so cute to wear for a workout, after yoga or even while going for a hike.
Follow along with this simple step-by-step upcycle tutorial to make your t-shirt into a back slit tank top. You'll be amazed how easy the project really is.
Tools
Fabric Chalk
Measuring Tape
Ruler
Scissors
Instructions
First of all, measure 1" down under the sleeve and mark with chalk. In addition, measure ½" along the shoulder seam and again mark with chalk

Next, draw the new armhole with fabric chalk.

Pro tip: I recommend drawing a smooth curve following the sleeve line.

Then, cut along the chalk line to make the new arm holes.

Now, lay the sleeveless shirt flat and fold the shirt in half.

When cutting make sure you only cut through the back piece and not the front piece.

From the back center neckline, measure 1" across and glue. Then, overlap with the back piece and secure it in place.

When the glue is completely dried, try on your DIY no sew t-shirt refashion and tie a bow in the back.

Notes
I recommend using an oversized t-shirt with a wide neckline that has modal ingredients. The fabric will feel lightweight and also keep you airy during a hard workout.
This upcycle is an easy no sew t-shirt to tank top that keeps your workout gear looking stylish. Experiment with the fun ways to cut a shirt.
Recommended Products
As an Amazon Associate and member of other affiliate programs, I earn from qualifying purchases.