*This post may contain affiliate links. Please see my
disclosure
to learn more.
Ruffles and crop tank top is a must-have Summer item for your collection. Great piece to wear with high waisted bottoms to create elongated look without much of help from high heels. The mini ruffles create cute and lovely element to your plain old tank top.

Whether you are beginner or intermediate level at sewing any fabrication, start with this cute ruffled tank top. Improve your knit sewing skills with more easy upcycle tank top ideas to upgrade your wardrobe with a zero waste transformation!
How do you stay on trend with current fashion and not spend a fortune buying new clothes all the time? In fact, upcycled clothing is the art of transforming old clothes into trendy clothing.

If you are excited with the results of this top, then you are ready to also try the t-shirt upcycle projects.From no sew to beginner sewing techniques, we cover all the basics for you to modify and improve your old tee into on trend styles.

So hope on board and learn new skills with me!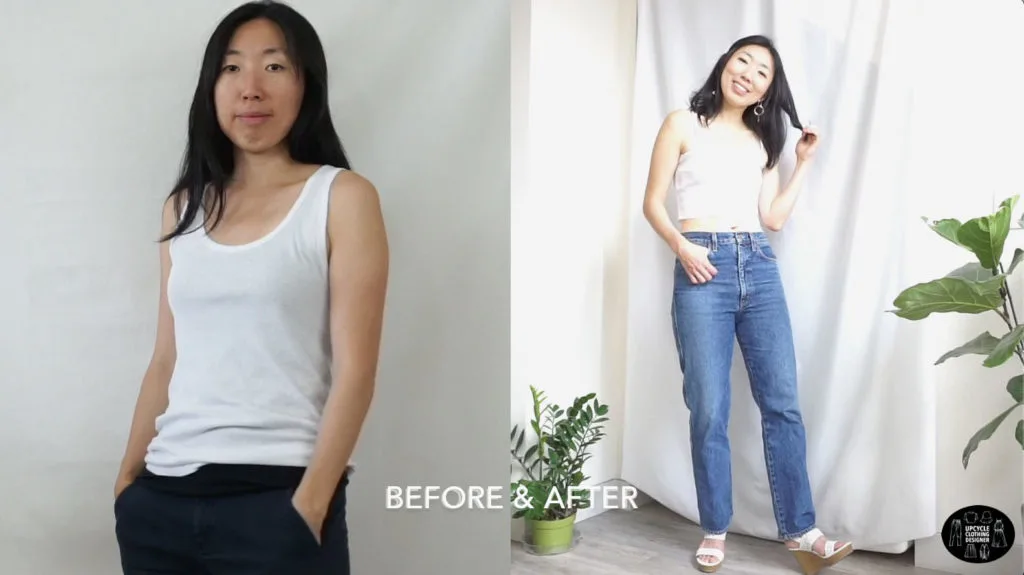 You will love this ruffle crop tank top because…
Learn how to make ruffles with knit fabric.
Understand how to use loop turner to make shoulder straps.
Use any color tank top to accomplish this look.
Perfect beginner level project to learn how to sew knits.
Elastic thread easily shapes the bust line for extra volume.
Knit material is an excellent fabrication to easily execute this mini ruffles. Precisely the reason why I chose rib knit to make this DIY ruffle crop tank top.

Are you planning to attend a festival or headed out on a beach vacation, make this DIY ruffle crop tank top from your old tank top. Enjoy a new look and feel amazing wearing something you made.
How to make DIY Ruffle Crop Tank Top?
Invest time to master the even distribution of the ruffles to create this cute crop tank top. When creating the ruffles, make sure to maintain a loose stitch length that is long enough to create balanced shirring around the bodice.

Start with accurate measurements so that you can size the top properly. Take body measurements for clothes so that your top fits perfectly!

In order to do that, you need a basic sewing kit to execute this upcycle tank top. I'll introduce easy sewing tips and hacks to upgrade your tank top into a brand new style.
DIY Ruffle Crop Tank Top Materials: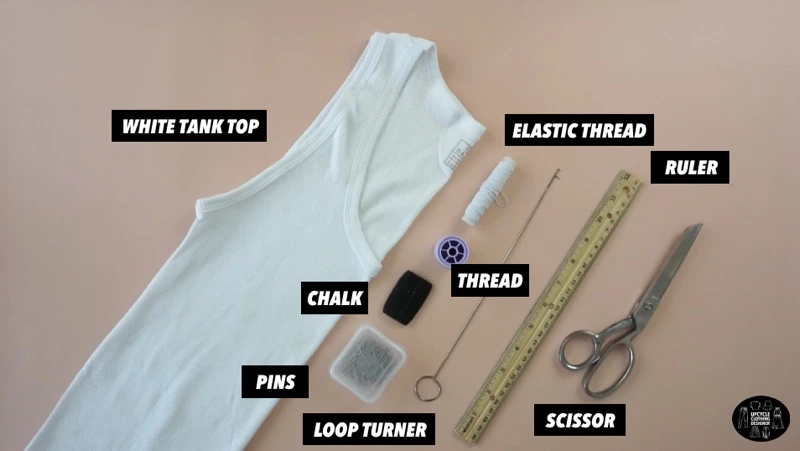 Tank Top
Elastic Thread
Fabric Chalk
Scissor
Loop Turner
Pins
Ruler
Start by cropping 7" off the bottom of the tank top. Then, use your favorite top to trace the chest and top opening. Use a pair of scissors to cut off all the excess fabric

From the fabric scraps, cut three separate 1" wide pieces. Cut both ends of one of the pieces and use it to make two shoulder straps.

The other two pieces will be used to make the ruffles. Cut one end of both pieces, and topstitch with elastic thread. Pull the back thread to ruffle the two straps.
Add a 2" bunching to the center front of the top. Then, attach the ruffles around the top opening. Finally, attach the shoulder strap to finish the DIY ruffle crop top tank top.

Below are detailed instructions along with step-by-step photos for you to easily follow along!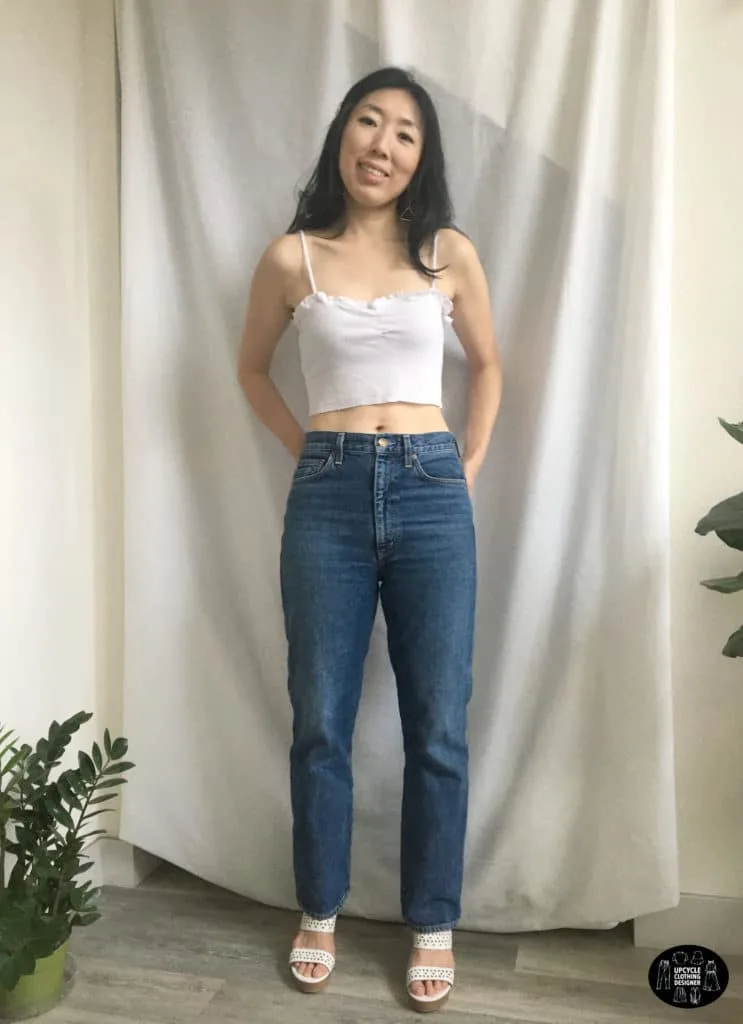 DIY Ruffle Crop Tank Top Sewing Tips
Here are professional sewing tips to help you make the DIY ruffle crop tank top project more fun and easy to do. I put together detailed steps to help you complete this cute and adorable tank top for you to wear all summer long.
Type of Stitch: A zigzag stitch is a perfect way to join knit fabrics. The stitch length is 1.5 and a width of 5. This setting closely mimics the look and function of an overlock stitch.
Tension: If you don't have a walking foot, try to decrease the pressure of your foot. This will help prevent dragging and puckering of the fabric.
Needle: Use a ballpoint or stretch needle to help avoid damaging the knit fabric while sewing.
Thread: When sewing knit, you don't need special thread. Regular polyester thread works well because it has a slight amount of stretch. However, it's recommended to stay away from cotton thread because it can break when pulled.
More tank top upcycle projects for your next DIY fashion: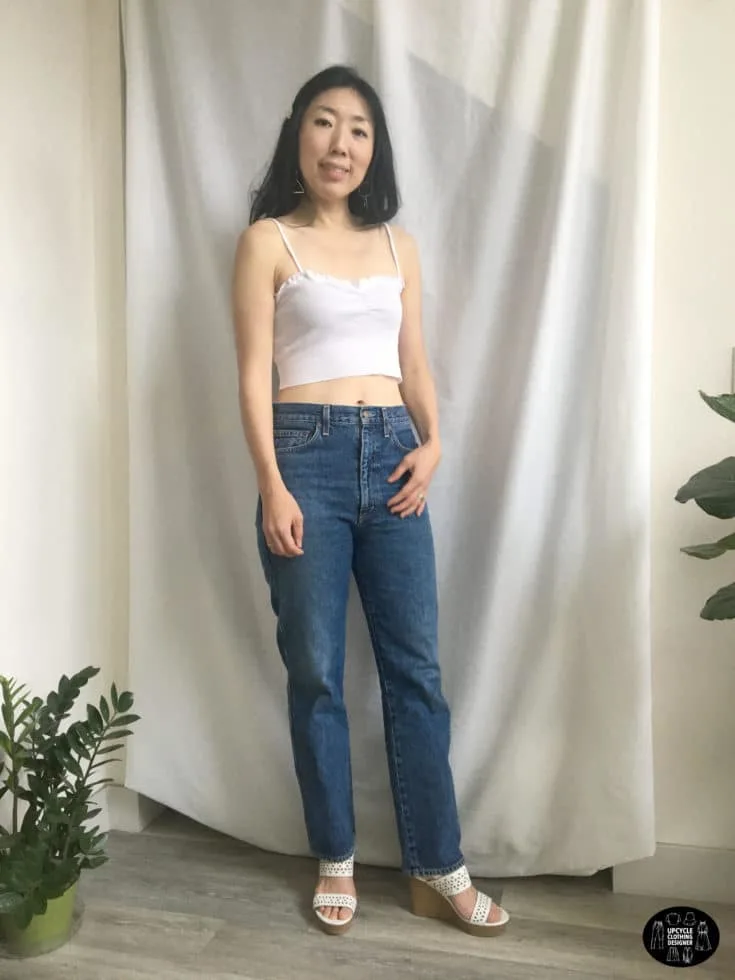 Yield:

1 Ruffle Crop Tank Top
DIY Ruffle Crop Tank Top
To create this DIY ruffle crop tank top, you only need to know how to make ruffles in knit fabric. Also, learn how to attach them to the bodice so it doesn't stretch out.
The mini ruffles with bandeau silhouette tank top is not as hard as it looks. Use these tips and techniques to give your old tank top a new life!
Tools
Sewing Machine
Fabric Chalk
Loop Turner
Straight Pins
Ruler
Scissors
Instructions
For this DIY ruffle crop tank top tutorial, start by marking 7" from the hemline with fabric chalk, and then cut along the line.

Fold your favorite camisole in half and lay it on top.
Use the placement to fit your chest and mark the top opening with fabric chalk.

Cut across the line to make a tube top.

Use the excess fabric to cut three separate 1" wide straps.

To make the shoulder straps, cut both sides of one strap.
Fold each piece in half lengthwise, and edge topstitch.
Use a loop turner to flip each strap inside out.

To make the ruffles, cut one side of the strap to double the length.
1/4" topstitch with elastic thread
Then, pull on the back thread to bunch up the fabric with elastic shirring.

To make the center bunching, fold the top in half to mark the center.
Then, draw a 2" vertical line down from the top.
Topstitch along the line with elastic thread to slightly bunch the fabric.

To finish the top opening, topstitch the ruffled straps together at one end.
Then, pin to secure and topstitch the ruffles along the top opening to create a snug fit with the elastic.

To finish the shoulder straps, mark the placement of each strap and pin to secure.
Edge topstitch the shoulder straps in place to complete the diy ruffle crop top tank top.


Recommended Products
As an Amazon Associate and member of other affiliate programs, I earn from qualifying purchases.