*This post may contain affiliate links. Please see my
disclosure
to learn more.
Do you have leftover knit fabric scraps that you don't know what to do with? Here is a Madewell inspired DIY cardigan that is super easy to make with this pattern.

The casual raglan sleeve detail and cute square pocket is all you need to look cool and stay comfy all year long! Learn how to sew sweater knit fabric to join seams, make a drawstring and also add the finishing detail that gives a professional quality look.
A cardigan is a classic essential that easily matches your style and makes it easier to dress according to the weather. My capsule wardrobe needed and upgrade and that is precisely the reason I chose to make this DIY cardigan from scratch.

This DIY cardigan tutorial guides you through the project with step-by-step photos, detailed instructions and a helpful video. Grab your sweater knit fabric and let's get started!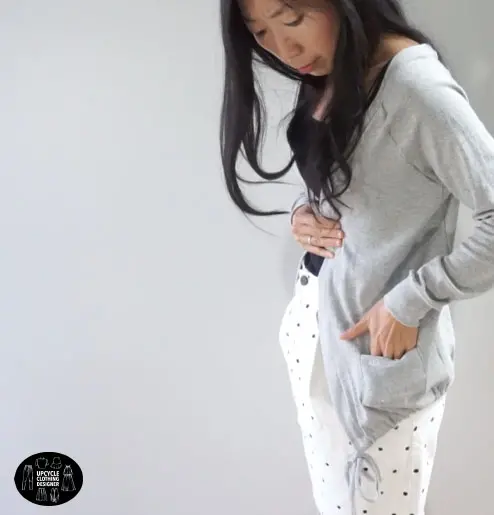 You will love this DIY cardigan from scratch because…
The tutorial comes with a free pattern including measurements and finishing. Easily convert the proportions to fit your size.
Perfect beginner sewing projects to create a lightweight outerwear garment.
Learn how to copy a t-shirt to convert the measurement into a cardigan
Make long sleeves to perfectly fit your arm length.
Make a drawstring using a loop turner to flip the strap inside out.
Sew basic knit stitching including zigzag, overlock, and straight stitches.
Follow instructions and sewing techniques to turn a scrap fabric into a wearable cardigan. The step-by-step tutorial makes it easy to breeze through each part without any problems at all!
How Do You Sew A Cardigan?
The simple step-by-step sewing tutorial demonstrates exactly how to make a cardigan from scratch. Save money and give a personalized touch to your casual outfits collection.

Match the sizing instructions and take body measurements for clothing for a perfect fit. In the end, you will be extremely proud to showoff the final result.
For under $10, you can easily create this cozy oversized DIY cardigan sweater. Review the sewing tips, techniques, and instructions listed below so that make a cardigan with designer quality and store-bought finishing touches.

The Madewell inspired look is a basic wardrobe items every woman must have. Here is exactly what sewing kit essentials you need to pull off this project.
DIY Cardigan Materials:
2 Yards Sweater Knit Fabric
Sewing Machine
Fabric Chalk
Measuring Tape
Ruler
Scissors
Pins
DIY Easy Cardigan Sewing Tips
Make it a habit to pre-wash and air dry the fabric before you start any sewing project.

I treat the knit fabric slightly different than non-stretch woven material, especially depending whether the material is thin or heavy weight. Test the tension of your sewing machine so you are comfortable to begin the sewing journey with me!
Sewing Tips: Avoid stretching the material when you sew. You've probably experienced the fact that sweater knits end up with wonky stretched out seams when overworked. Avoid this effect by widening the stitch length. A short stitch tends to stretch out the fabric as you sew.
Needle: As with other knit fabrics, it's a good idea to use a ball point needle. This needle helps to push fibers apart and slide in between instead of making holes that damage the surface. Choose a smaller number like size 9 for delicate sweater knit, and higher number 14 for heavy sweater knits.
Stitches: Avoid popping the seams by using a stitch that will stretch. Many sewing machines have a stretch stitch that usually looks like a lightning bolt symbol on the machine. In addition, you can use zigzag stitch, a double needle or standard serger stitch.
Shoulder Seams: If you have a difficult time getting straight stitches, sew elastic right into the shoulder seams. This will help to keep the seam from getting stretched out or misshaped. I'm not a professional seamstress, so this method really helps me when I sew shoulder seams.
Iron: Make use of a steam iron. Adding steam helps to shrink stretched seams back into place.
Utilize these sewing tips and techniques that I put together so that you avoid any preventable mistakes. Read through and if you are stuck, simply leave a comment below and ill do my best to help you along the way.
More make from scrap projects for you to try next: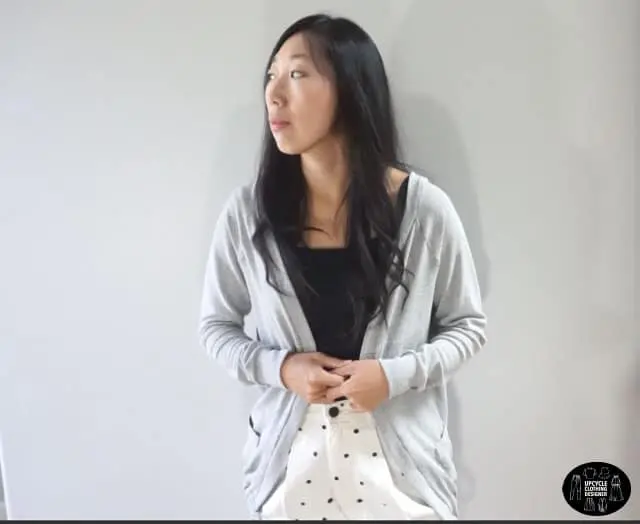 Yield:

1 Cardigan
How To Make A Cardigan Without A Pattern
Easily follow this step-by-step tutorial for how to make a cardigan from scratch. This Madewell inspired cardigan is a basic wardrobe essential every woman must have in her closet.
The lightweight outerwear option has become one of my favorite go-to items to wear for a variety of occasions. From casual workwear to date night outfit, this DIY cardigan comes in handy when I need it most!
Materials
2 yards Sweater Knit Fabric
Tools
Sewing Machine
Fabric Chalk
Measuring Tape
Ruler
Scissors
Straight Pins
Instructions
For this tutorial, all you need is front right side and front left piece, 2 sleeves, a back piece, 2 pieces of 5" x 5" pockets, and 2 pieces of 6" x 7" cuffs.
Pro Tip: To make a cardigan without a pattern, we easily copy a sweater from your closet.
Fold the sleeve in half and sew the hem with a zigzag stitch.
Pro tip: For any knit hem finishes, you can either use a zigzag stitch or a faux overlock stitch.
Then, make the cuff by folding the 6" x 7" pieces in half and sewing the edge with a zigzag stitch.
Slide in the folded cuff into the sleeve and match the under arm seam with the cuff seam. Secure with pins before sewing a zigzag stitch.
How To Sew a Cardigan From Scratch
Next, lay the wrong side of the front and back pieces on top of each other. Pin both side seams and finish with a zigzag stitch.
Match the underarm seam with the side seam to attach sleeve to the bodice. Pin around the armhole and finish with a zigzag stitch.
To make the neckband, fold a 2 1/2" width strap in half and sew together. Begin pinning on the center back seam and go all the way to the front opening. Hem the finish with a zigzag stitch.
Now, we are going to make a drawstring for the bubble hem on this DIY Madewell cardigan sweater. Cut 1 1/2" width bias strap about 40" long. Fold the strap in half, and zigzag stitch to close. Flip the strap inside out with a loop turner to make your drawstring.
Fold the hem of the cardigan about 1" and edge topstitch along the hemline. Use the loop turner to insert the drawstring easily.
Finally, fold and iron the pocket pieces about 1/2" on each side. Along the opening of the pocket, top stitch to secure the fold. Lay the pocket square on the front of the cardigan and edge topstitch around the sides and bottom.
Notes
Picking out a quality fabric is the first step to accomplish before we begin covering how to make a cardigan from scratch. I used a medium weight sweater knit fabric and picked a color that looks great on me.
Recommended Products
As an Amazon Associate and member of other affiliate programs, I earn from qualifying purchases.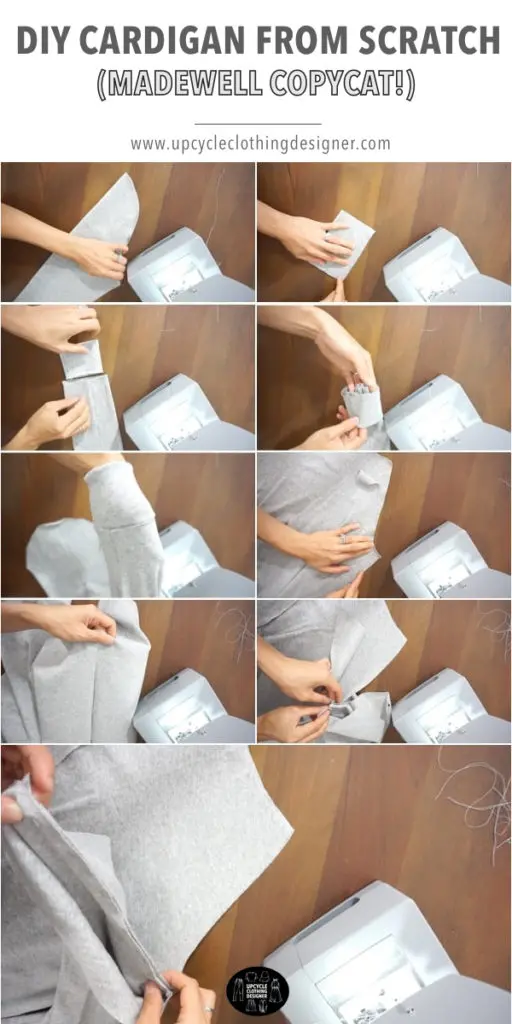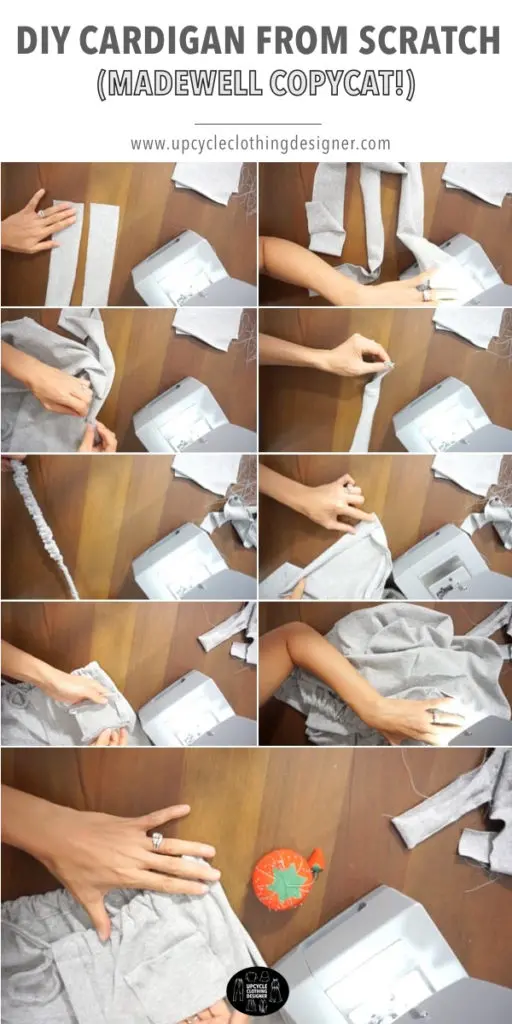 Have you ever tried to make a DIY cardigan from scratch?
Share your experience with us so that we all learn new skills together!
#FashionWanderer