*This post may contain affiliate links. Please see my
disclosure
to learn more.
Are you looking for new clothes to make from a men's dress shirt? I've put together the best ways to repurpose a men's dress shirt into cute and trendy clothing to add to your closet.

From women's blouses to dresses and skirts, sew along with me and let's convert your button down shirts into new wearable style!

These dress shirt upcycle projects feature a wide range of designs from feminine to modern. If you are looking for upcycled clothing featuring classic looks that everyone should have in their closet, then you found the right place!
I highly recommend starting with a men's shirt if you are new to sewing. The fabrication is not stretchy and also easy to sew and cut without fancy tools or high levels of experience.

In addition, its a cheap material that you can find in the back of the closet, at a local thrift store or even at a garage sale for under $5. Therefore, the sewing project becomes affordable and the outcome is store-bought quality.
My goal is to inspire others to have enjoyable experience making new clothes from old clothes. This men's dress shirt upcycle collection is full of up-to-date projects for you to learn and have fun with. Each fashion forward design is chosen based on the bestselling garments available in the current market.

The men's dress shirt designs below include techniques like pintuck detail, hand gathered ruffles and balloon silhouette elastic. The best part is that every project is done without needing a sewing pattern.

As a result, there is many choices for everyone's sewing skills and preferred style. So grab you button down shirts and lets get started!
DIY Mens Dress Shirt Refashion
If you are stuck trying to come up with new ideas, the refashion designs listed below will show you how to upcycle clothes and turn a men's shirt into woman's clothes. From striped puff sleeve blouse to ruffled mini skirt, there are various ways to DIY a men's button down shirt.

Pre-washing to ironing, it's satisfying to deconstruct and re-assemble an old shirt into brand new clothes. Couple of quick sewing alterations and adding classic notions goes a long way. As a result, you are easily able to convert an old shirt into a brand new garment that you will look forward to wearing all year long.
Each tutorial starts with the same method before you dive into making the new garment. I've laid out the common method to prepare a button down shirt to begin any upcycle project.
How To Deconstruct A Men's Dress Shirt
Properly deconstructing a men's dress shirt is like a ritual. After working on multiple dress shirt upcycle projects, I want to share my tips to reduce preparation time so that you can get the sewing project started right away.

If you got your shirt from a thrift store or even buried in the back of the closet, always start by gently washing and tumble dry completely before beginning. It is key to preserving the fabric and making the button down smell good while working on it and tying it on after you complete sewing the new clothes.
Always make a habit of review the tutorial measurements and adjust based on your measurements. Use a measuring tape to take body measurements for clothes, and then you can estimate if the shirt is workable for the specific project. By doing so, you'll save time and also avoid running out of fabric to complete the design.

In addition to a measuring tape, your sewing kit should contain a few specific tools. For ease of use and precision, I recommend having a seam ripper, fabric scissors, fabric chalk and dress making pins. Not only do these tools make it easier to detach the pieces, but the material will have smooth edges that are not damaged or frayed in any way.
If everything is a green light, proceed with deconstructing the original men's dress shirt. I always follow the same routine, therefore I don't miss any steps and my pieces remain organized and useable.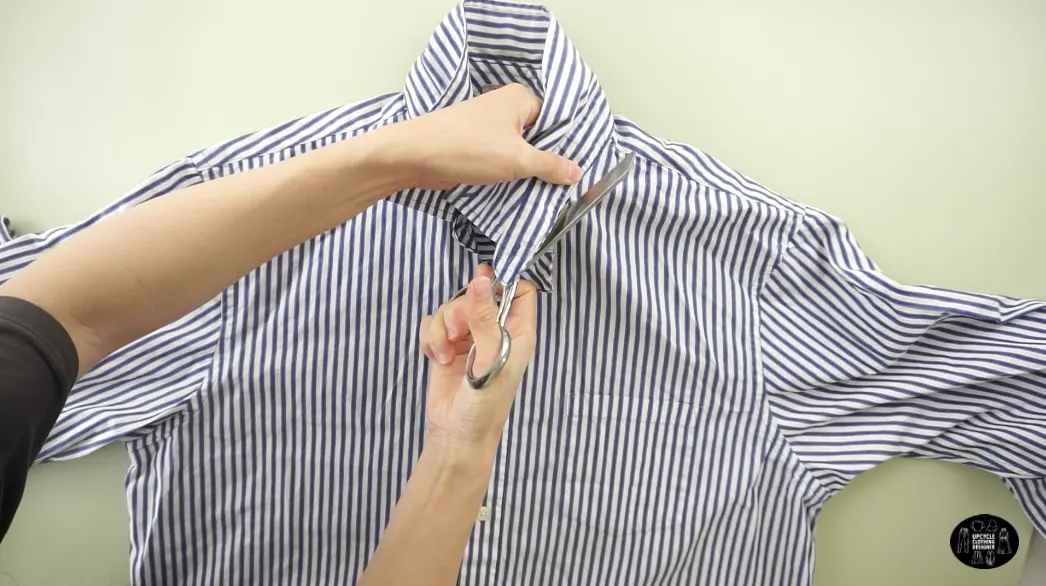 Start by cutting the neckband and collar from the shirt.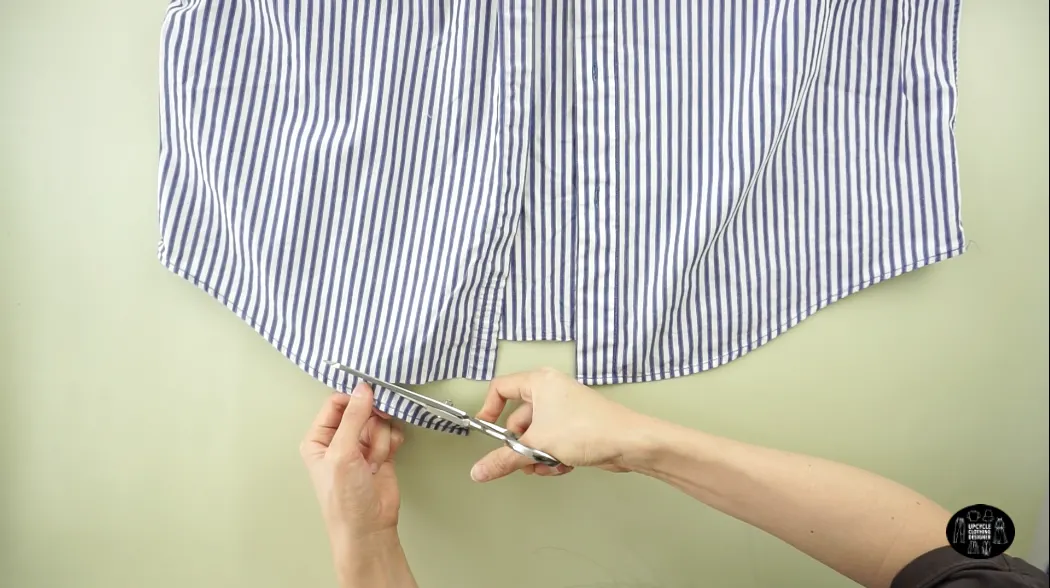 If you see bulky seams along the armhole, hemline or side seam, it will be helpful to remove the overlock seams first.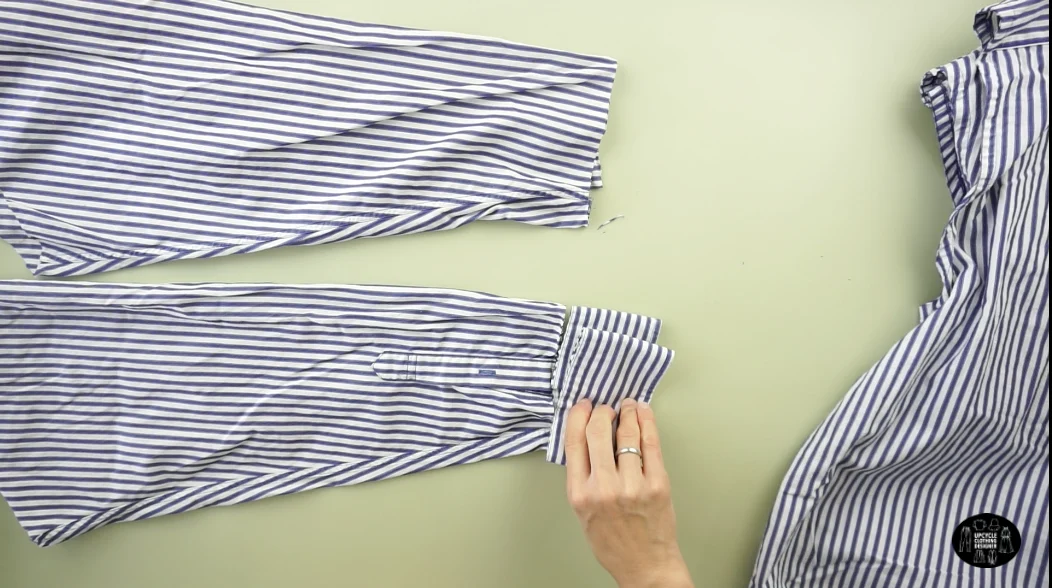 Then, remove the sleeves but cutting along the armhole opening.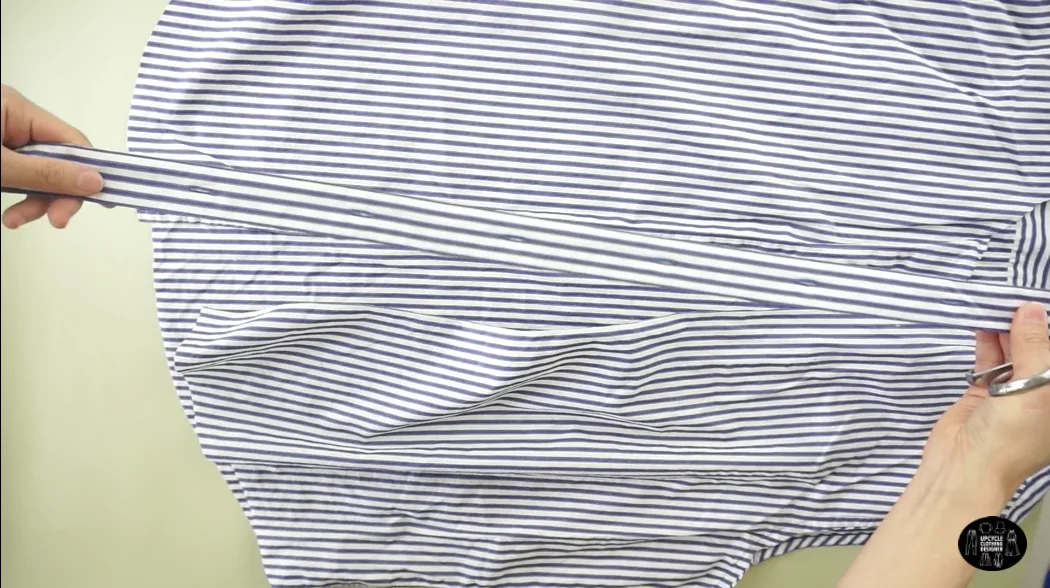 Next, cut off the button and button hole plackets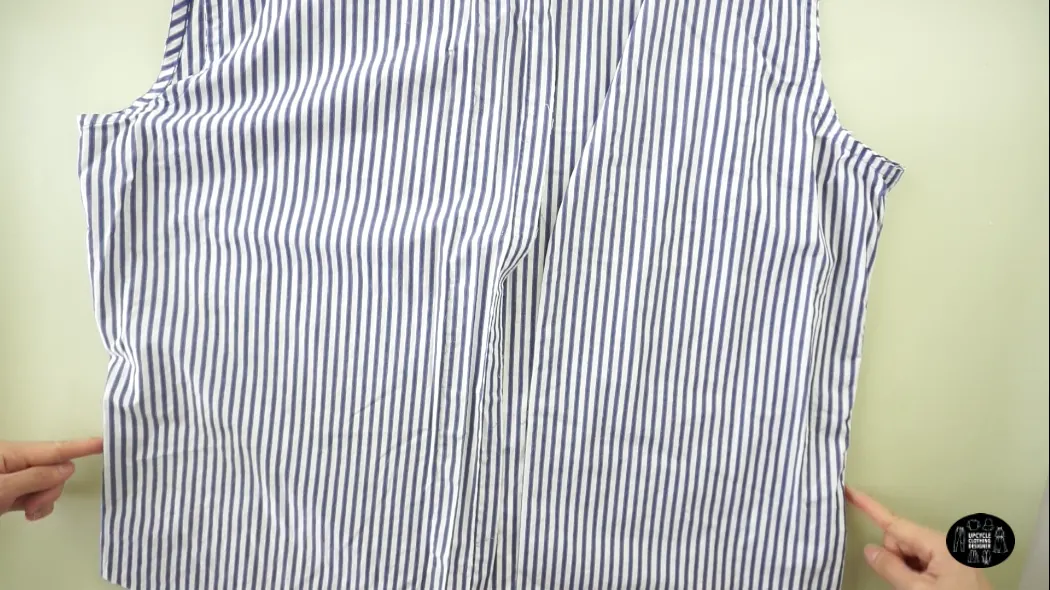 Open up the side seam and shoulder seams to detach the front piece from the back piece;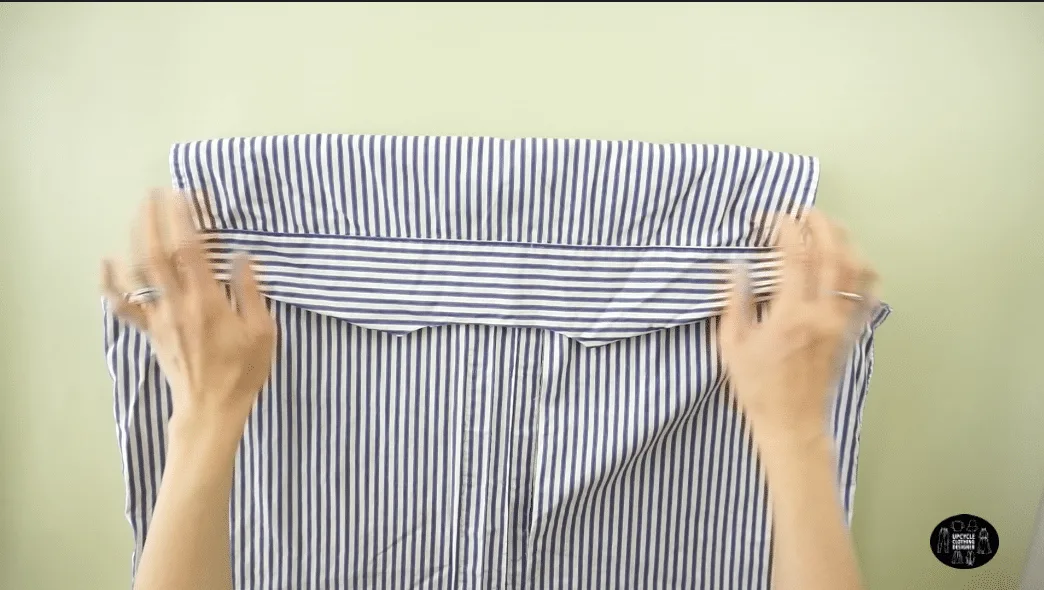 also, cut across the back yoke.
Utilizing the button placket and existing neckband collar is smart idea. Try to include the functional pieces into your design in order to skip a couple of steps, this is another reason that I like transforming men's shirts for upcycle projects.

Use the buttons or save them for another project, make a habit of collecting to make yourself a library of notions to use for future upcycle projects. I guarantee you become zero waste Fashion Wanderer with the knowledge of better ways to recycle men's shirt!
These are general guidelines for taking apart a men's dress shirt for an upcoming reconstruction. Depending on each project, you may alter or vary the steps slightly.

It may be possible to save the hemming of the shirt or cut as a 1" strap to use as decorative piece. Even though you follow the general rules, be creative and add your personal touch to each design. Each and every project is allows for variations as you wish.
Upcycled Men's Dress Shirts
Transform old clothes into trendy clothing with the step-by-step instructions provided in each tutorial. Grab your sewing kit and gather together your favorite men's dress shirts for these fashion forward upcycle projects. From dresses to puff sleeve blouses, these upcycled men's dress shirts are guaranteed to catch your interest!
What are your favorite upcycled men's dress shirts?
What men's shirt upcycle would you like me to try next?
Share your ideas with me in the comments below!
#FashionWanderer