*This post may contain affiliate links. Please see my
disclosure
to learn more.
Tired of transforming t-shirt into tops? Here are t-shirt to dress upcycle projects that are perfect for any occasion. Learn how to turn an oversized shirt into a dress with these simple tips.

Consider experimenting with these trendy t-shirt upcycle ideas. Each project thoroughly details exactly how to turn a t-shirt into cute new clothes that give you many fashionable outfit options.
Many people have a large collection of old clothes jammed in the back of the closet. As a result, I have set out to develop fun ways to recycle old t-shirts into new clothes that are exciting to wear again and again.

I have been on a mission to make the ultimate guide for how to make a dress without a pattern. So if you are looking for easy ways to make cute DIY clothing, then you are in the right spot!
The goal is for everyone to be able to find old clothing they can refashion into new outfits that they are excite about wearing. Understand what to do with old t-shirts once you have a grasp of the basic principles behind clothing construction.

Simple adjustments and alterations go a long way. Take a look at these exciting t-shirt upcycle ideas and pick your favorite looks. As a result, you are able to turn a boxy oversized tee into and brand new stylish garment for you to wear.
You will love this t-shirt to dress upcycle projects because…
Learn how to sew basic stitching onto knit fabric.
No sewing pattern is required. Each tutorial comes with measurements and easy to follow instructions.
Perfect beginner and introductory sewing project to make department store quality designs.
Improve your capsule wardrobe by adding classic knit dresses to the mix.
Copy a form fitting top to modify an oversized tee into a dress silhouette.
Follow the video instructions and techniques for a clear guide to turn a t-shirt into a dress. The DIY t-shirt dress upcycle projects provide you with tips and tricks to successfully complete this beginner sewing project.

If you have a drawer full of tees that you don't wear anymore, then this tutorial is perfect for you. The step-by-step instructions will teach you exactly how to transform a big shirt into a dress.

Let's get started!
How do you make a T-shirt into a dress?
With a few simple steps and techniques, turning a big shirt into a dress is not very challenging. Each guide shows you how to make a simple dress without using a sewing pattern including key details about how to turn a large t-shirt into a dress.

Start with accurate measurements by learning how to take body measurements for clothing. This guide will walk you through all the specific points for precise sizing.

In addition, I recommend assembling a basic sewing kit that will hold all of your essential supplies and tools. Once you have these pieces together, let's begin the challenge together!
DIY T-Shirt Dress Materials:
Oversized T-Shirt
Sewing Machine
Scissors
Fabric Chalk
Measuring Tape
Ruler
Pins
Thread
DIY Blouson T-Shirt Dress: This blouson t-shirt dress has relaxed gathering around the waist with slim knit skirt bottom that gives a casual look. Simply adjust the amount of shirring to make you look great from every angle!

Twist Front T-Shirt Dress: Making a t-shirt dress that is combination of crop top and high waisted skirt is pretty smart idea. The twist front detail is fun to do and also makes a cute top if you have additional t-shirt to play with.
Side Shirring T-Shirt Dress: An asymmetrical tulip silhouette skirt is super flattering. The slight side shirring gives natural curve around the hips that hugs that waistline quite nicely. Just follow the measurements and instructions to customize your own look!

Cold Shoulder T-Shirt Dress: Peek-a-boo sleeves are so adorable! The A-line dress shape and cold shoulder detail matches really well. The best part of all is that the cutting technique for this oversized t-shirt transformation is definitely beginner friendly.

Racerback T-Shirt Dress: A racerback all by itself looks too sporty, but adding little ruffles along the shoulders creates a cute dress to wear to a casual setting. Learn how to make ruffles with knit fabric to enhance the look of this ruffled racerback t-shirt dress.
DIY Easy To Make T-Shirt Dress Sewing Tips:
Start by deciding whether you want a fitted dress or an A-line silhouette. The designs on each dress are interchangeable based on your preference, so determine the sleeve structure, reattach side seams, and finish the dress details.

From there, you can easily input these sewing tips to accomplish your own personalized t-shirt dress. I put together helpful sewing tips for you to know before getting starting!
Cutting: When cutting t-shirt material, get precise measurements and straight lines by using a rotary cutter instead of scissors. Make sure to use a cutting mat underneath so that you don't damage the table!
Needle & Thread: For this project, I used smooth and rounded point needles with thread that matched the cotton and polyester t-shirt blend.
Stitches: Majority of stitching in this tutorial are straight stitches except for the shirring and zigzag/overlock stitch to finish the seams inside the shirt dresses. I used a #3 regular width sewing machine setting.
Gathering Foot: Manually sew ruffles, or use a gathering foot to make the process so much easier to evenly distribute the fabric bunching. Increase the stitch length because the higher stitch length creates more gathers.
Tension: Tension is based on your t-shirt weight. If the material is a light to medium weight, then go with 4-5 tension. For a heavier cotton t-shirt, go with #4 tension setting.
More t-shirt upcycle projects for your next DIY fashion:
T-shirt To Dress
This refashion tutorial breaks down the steps required to turn a t-shirt into a dress. Follow along for step-by-step instructions of these beginners sewing projects.
Explore the dress designs in this project roundup. Each tutorial shows how to make a simple dress without a pattern. You will use your favorite fitted clothing to copy the measurements and complete the project.
The relative inexpensive cost is the best part about t-shirt upcycle. You have the opportunity to turn old clothes into something new and unique.
As a result, you get to develop a new skill and pursue a rewarding hobby. In the end, you get to wear personalized clothing that you have designed and produced.
It's extremely rewarding to wear something that you have custom made. So, step up to the challenge with me and let's get started turning a big t-shirt into a dress.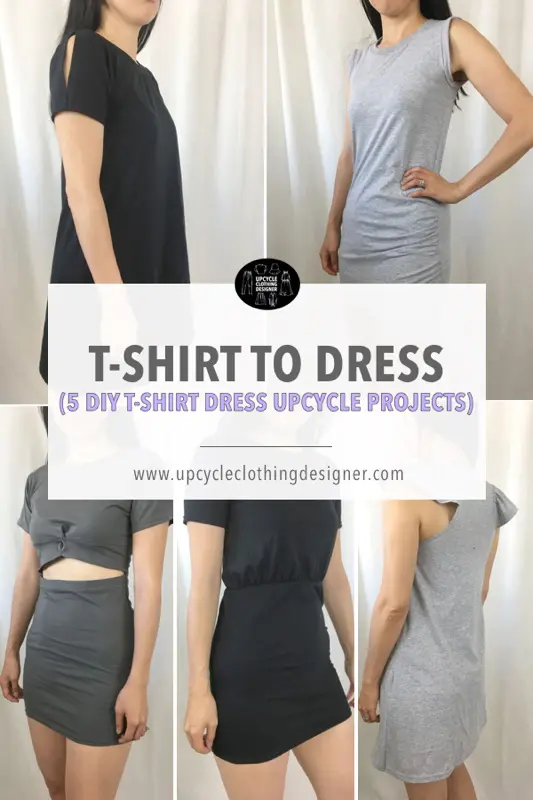 What is your favorite t-shirt to dress upcycle?
Share your DIY t-shirt dress with me!
#FashionWanderer