*This post may contain affiliate links. Please see my
disclosure
to learn more.
Are you looking to understand how to sew a welt seam correctly? If you are woking on outerwear or denim garments that uses heavy fabrics and require a strong seams to join the pieces, then sewing welt seams with a sewing machine is great solution.
Welt seams are less bulky and help to stop fraying. Additionally, they are stronger than sewing seams regularly, making them a necessary part of joining heavy fabrications.
How do you sew welt seam? Finish the cut edges with zigzag stitch or overlock stitch. Place the right sides together, sew a straight seam to join and finish with zigzag stitch on one side of seam allowance.
Press the seam towards the side or center back. On the right side edge, topstitch about ⅛" or ¼" straight stitch on top of the seam allowance.
This article explains how to sew welt seam properly as it could be a bit complex for beginners the different ways to execute. Before getting into the details of welt seam sewing, we will have a look at frequently asked questions about the meaning, usage, and tips for sewing a welt seam.
What is Welt Seam?
A welt-seam is a seam that is flat-felled. The top seam allowance is not pressed, but it is finished with the help of zigzag stitch or pinking shears to avoid from fraying on the inside.
Once this has been done the whole seam allowance is stitched down.
A welt seam is a flat thickened seam stitched first on the wrong side, then on the right side afterward. In terms of bulk, it is much lighter and easier to handle.
The seam allowance is not folded over and pressed. Instead it is finished simply with the help of a serger.
Many people also use pinking shears and zigzag stitching after the welt seams are stitched down. This is preferred because it goes a long way in improving the overall look as far as the insides of garments are concerned.
The method is commonly used for fabric that shreds quite significantly.
What is a welt seam used for
Many people compare welt seams to French seam. The seam is double-stitched and also referred to as a closed seam.
Welt seams have a number of uses and they are used quite frequently when making jeans or structured jackets. It adds a lot of strength to the garment compared to plain seams.
At the same time, the seam is less bulky when compared to other options like flat-felled seam.
This is because this type of seam is not enclosed. The raw edges of the fabric are easily visible, but simultaneously does not spoil the overall look and appearance of the garment.
Tips to sew welt seam
As a beginner, sewing welt seams may look confusing, especially when determining which way to stitch down and press the seam. Learning these sewing tips is important because sewing is easy and process oriented
Here are a few tips that could help in sew a welt seam properly:
Make sure that the edges of the fabric are properly finished. This can be done with the help of a zigzag stitching method or even with the help of serger to overlock stitch, this form of stitching will ensure that raw edges remain frayed.
Ensure that the right sides are placed together and that you sew the seams using the seam allowance that is indicated on the sewing pattern.
The stitches have to be pressed with hot or steamed iron so that they settle in place.
Make the right preparation for the final seam. The fabric has to be kept open using the essential sewing machine foot. Both sides must face up so that the seam allowance is properly placed to apply straight stitch to join.
Be aware that you are catching and sewing all three layers of the welt seam: the actual garment layer, first seam allowance and 2nd seam allowance.
These welt seam sewing tips will guide you so the welt seam is properly stitched. It will offer a perfect combination of looks as well as strength and durability.
If you are experiencing any puckering or skipping stitches along the welt seam, double check the condition of sewing needle point and tension of the sewing machine.
How to sew a welt seam
The best way to know more about how to sew welt seam is to understand the different types of welt seam and how to approach them properly. From regular to single welt seam and double welt seam, you have the option to choose which applies best for your garment.
Sewing welt seams is about understanding how to do it both for double as well as single welts. There are also other common variations to it that must be understood.
Here are some steps to help in sewing welt seams:
Welt Seam
Generally the welt seam is added not only for decorative purposes, but also to give functional feature to the garment. It provides strength along the joint of the garment and is perfect for any tailored garments and yokes on blouses.
Place the fabric right side together and stitch a plain straight stitch and press the seam open.
Trim one side of the seam allowance down to ¼" or ⅛" depending on the width of seam allowance.
Zigzag stitch only uncut side of the seam allowance.
Fold both pieces of the seam allowance to one side so that the cut seam is covered by the uncut seam.
Add a row of topstitching ¼" away from the original stitch and press the seam flat to finish.
Single Welt Seam
It is type of seam which is similar to topstitched seams, but skipping the step of straight stitching. Also, it is stronger than plain seams and perfect for heavier fabrics and garments such as bags and pants.
Place the right side facing together.
The raw edge of one piece of fabric is folded under.
A plain seam is sewn as a topstitch above where the raw edge is tucked under to help to lock the raw edge onto the right side of the other piece of fabric.
Double Welt Seam
The double welt seam is similar to single welt seam, but in this case you sew down a welt seam and then sew a topstitch seam onto the folded edge. By doing so, it will help to reduce bulk of the seam and keep it from going back to its position.
The second stitch of the double welt seam helps to stabilize the first stitch and provides aesthetics long along the seam's edge. You may use contrast color thread to give a decorative look for garments like denim dresses or jeans.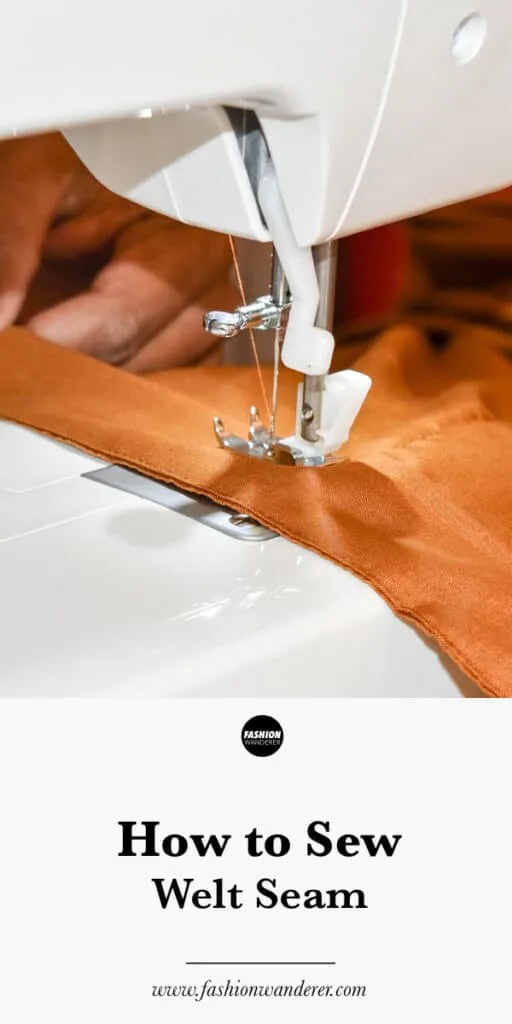 Sewing Welt Seams: Final Thoughts
Learning how to sew welt seams help you to strengthen a garment on a deeper level so that it lasts long after multiple wears and washes. Use welt seams on heavyweight fabric such as when sewing denim, leather, or suede bags and outerwear.
Whether you are adding lining or without, these technique will give the garment overall durability.
Start by properly threading a sewing machine and bobbin thread to avoid any jamming or bird nesting on the fabric when sewn. Most likely, welt seams are used on woven fabrics, so replace the all-purpose sewing needle size with a heavy or fine needle that suits the material fabrication.
Sew a regular straight seam by placing the fabric right sides together. Press the seam open to work on both sides of the seam allowance easily.
Add zigzag stitch on one side of the seam allowance and trim the other seam allowance into ¼" or ⅛" width.
Fold over to cover the zigzag seam to trimmed seam and stitch down the front side of the fabric and sew all 3 layers together. Sew about ¼" away from the original seam and press to finish.
There are various ways to sew welt seam including single, double, and open welt seam that equal strong and durable stitches for the project. Always practice on a scrap of fabric so you are comfortable when it comes time to sew the actual garment.