*This post may contain affiliate links. Please see my
disclosure
to learn more.
Are you sewing denim correctly? Denim fabric is often described as hard-working and hard-wearing, but certainly not hard to sew, as per the inclination.
Whether you are sewing a pair of high waisted denim jeans from scratch, upcycling a DIY backpack or refashioning old jeans into a cute trendy denim mini dress, denim jeans are a durable fabric that can easily last a decade.
How do you sew denim? Select the weight of denim fabric and sewing pattern accordingly. Replace with a denim jean friendly sewing needle ranging from 90/14 to 100/16, depending on the weight of denim.
Use a 3mm stitch length and topstitching to secure the join of the seam even stronger. Always press seams with steam and heat to complete the denim with neat stitching.
With the proper sewing tips and techniques, it is actually easy to sew denim with a regular sewing machine. Denim is a sturdy fabric and heavy to handle, therefore having the right needle, thread, and machine is imperative.
Covered in this article is everything you need to know about sewing denim fabric. The post answers all the frequently asked questions pertaining to the fabrication and how to sew denim the best way.
Can you sew denim with a sewing machine?
Yes, you can sew denim using a sewing machine, no matter whether the denim is light or heavy in weight. With the right technique, thread and needles, it is very much possible to sew denim with a regular sewing machine.
For sewing lightweight denim, a computerized Brother sewing machine should be enough.
For sewing heavyweight denim, a heavy-duty Singer sewing machine with a sturdy interior frame and powerful motor is recommended.
Adjust the stitch length and try to stitch on scrap denim before going forward to work on the actual garment.
Due to the difference between Brother and Singer sewing machines, the characteristics and abilities of the machine are quite different. You may find for pants, jackets and bags are perfect for Singer machine and for any lightweight denim for a shirtdress or tops with decorative feature, using Brother machine will be suitable.
Denim stitch types
Every sewing machine offers different types of stitches that require various functions to execute. Depending on the material you are working with, you will use specific stitches from the selection.
However, there are specific types of stitches recommended to use on denim:
Chain Stitch: It is the basic and simplest stitch that resembles a chain. The chain stitch is a type of stitching where one continuous thread is looped back on itself, meaning there is no bobbin thread. The chain stitch is stretchier compared to lock stitch, as a result you will find this method on waistbands and leg seams.
Lock Stitch: It is the fundamental type of stitch on any sewing machine. The lock stitch is when the machine makes a single stitch, and the upper and bobbin threads lock together to secure the fabric together. If you are sewing a straight stitch, then you are already sewing a lock stitch.
Topstitching: An essential when it comes to sewing denim. Select sharp pointed topstitch needle with 100% polyester 12 weight thread to create a bold stitch line along the waistband and pockets. Also, use stitch length of 3 to 3.5 for topstitching to hold the construction together with an aesthetically pleasant decorative stitching. When topstitching, use a topstitching foot to help switch the needle position and get the most perfect stitching.
Inside Seams: A 3-thread or 4-thread overlock stitch with serger is highly recommended to finish inside seams. The stitching will help to avoid fraying along the cut edges and keep the seams neatly finished inside of the garment.
Flat Felled Seam: Denim jeans are usually done with flat felled seams. If you are using a regular straight stitch, you will need to trim the seams on the seam allowance. It is made by stitching the fabric wrong-side together with different seam allowances. The shorter seam allowance is encased in the longer one and then topstitched to finish.
Hemming: When hemming denim jeans, it is good idea to have at least about 1" wide and double topstitch at the top of the hem to prevent the hem from curling up.
Busted Outseam: The busted outseam is a traditional way to sew denim. Be aware that it tears easier for lightweight denim due to the seams being secured only with one row of stitching.
Sewing denim is not complicated at all. Understanding the different types of stitches to use in denim fabric is important. Depending on the element of denim such as waistband, pockets, or inside seams along the leg part require specific stitch type, follow the instructions on the sewing pattern and practice the stitches on a scrap of denim to get the perfect results you desire.
Best needle to sew denim
The best needle to sew denim for medium and lightweight denim is 90/14, and for heavyweight denim, it is 100/16.
Compared to any other fabric, you will need a special sewing needle to pierce through the thick and heavy fabric. The best needle to sew denim need to be sharp, strong, and precise to pierce heavy denim.
It is longer and has a bigger eye to suit the thread thickness for sewing denim. It also has a sharp point and a strong shaft so it doesn't break very easily.
Therefore, a normal needle is not suitable to handle a sturdy denim fabric. The ideal size of this needle is 100/16 however, you may explore more option when sewing denim such as 110/18 or 120/20.
For stretch denim, a stretch needle is required.
Thread weight for denim
A heavyweight thread for providing additional support is right to use when sewing denim. Make use of a longer stitch length. If the denim is heavy and jeans type of denim then make the stitch length around 3mm.
The right thread weight for denim results in sturdy and durable seams. A cotton covered polyester thread is recommended as it is strong in quality and good for sewing denim.
The thick and heavy weighted material require special jeans thread that is meant for sewing on denim.
The denim thread is especially thick to execute topstitching. Even if it is a thin thread, it would be very strong and heavy-duty.
Denim thread does not tear very easily. Use a double thread on the top and bring the top and bottom (single) thread together.
When sewing topstitch on the denim, keep the bobbin thread as regular thread and only use thick topstitch thread on the upper part of the sewing machine.
The thick thread on the bobbin won't catch correctly, and regular thread works as good and will sew well with topstitch thread.
Denim tension for stitches
Denim tension is perfect up to 6, and any number above this can get high and result in a pull into a flat line to make a topstitch. The bobbin stitch is clear about 6, however it does not improve above this number.
Set denim tension to:
Topstitching: The top dial can be set for 4 as normal, considering 0 as loose and 9 as tight. A higher tension at the top is essential to pull the lower bobbin thread for the heavier fabric. Set 4 as normal and bump a number higher if needed, however for topstitching 8 should be right.
Regular thread: For regular thread, adjust the top tension at 6. If it is higher than this, tension may pull the stitch to a flat line.
Walking foot to hem jeans
The walking foot is perfect for hemming jeans and not just for quilting purposes. To hem side seams on jeans, the thickness should not be over 8mm on the hemming foot.
A walking foot is an essential sewing foot that helps to feed several layers together, especially for a double-fold hem. Try walking foot to hem jeans as it prevents puckering or twisted hems.
Some denim can stretch, so hold the jeans firmly at both sides of the needle, without stretching it.
Try reducing the foot pressure for fabric feed without any friction. A walking foot assists in feeding top layers along with lower layers and over the feed dogs.
Replacing a regular presser foot with walking foot will help you to match seam intersection, sew over bulky side seams, and topstitching on hems and pockets easily.
How to sew denim
Due to heavier material compared to cotton or silk fabric, sewing denim jeans is quite simple and easy. It require special sewing tools to manage the weight of the material and special stitches to lock the heavy fabrics together.
Follow the below steps to sew denim properly:
Select the right denim design and fabric. Heavy denim is best for structured clothes while lighter denim is for flowy clothes.
Grab a needle suitable for jeans/denim. For lighter weight 90/14 and heavy denim 100/16.
Attention is essential to denim grain lines to align suitably when cutting the fabric. Pin to cut along the sewing pattern and indicate darts or symbols with erasable fabric pen.
Make use of lighter interfacings for waistbands, cuffs or collars.
Reinforce the jean seams with topstitching.
Use a longer length stitch around 3mm.
After sewing seams, use a hot iron to press seams with steam and heat to meld the joining and topstitches.
Employ a clapper to get flat and crisp lining, thereby eliminating bulk.
Make use of sturdy closures such as zipper and jeans tack buttons with buttonhole on the waistband.
Finish seams neatly with overlock stitches and double fold hems.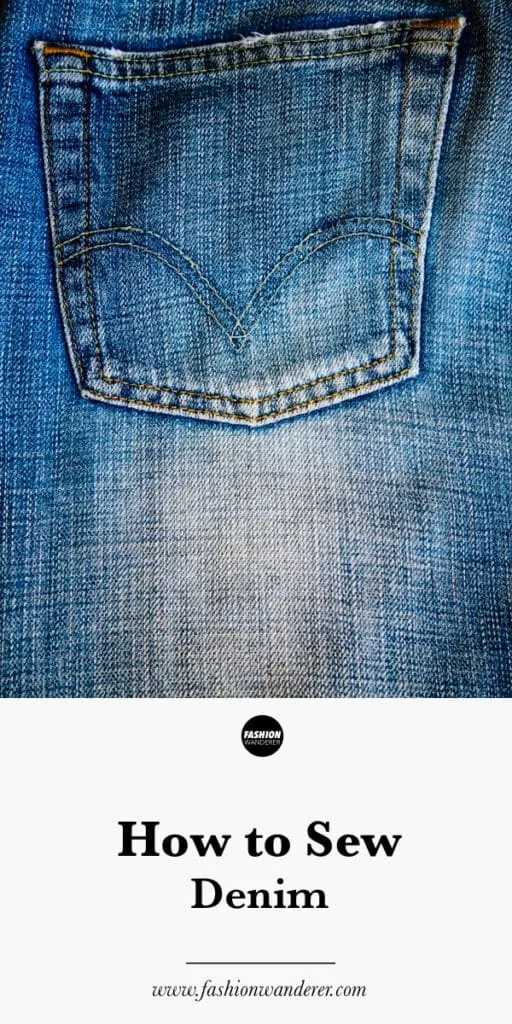 Sewing Denim: Final Thoughts
Tosew denim,select the correct needle and thread with appropriate techniques to handle heavy fabrics. For lighter denim, a regular sewing machine is sufficient, but heavy denim could be handled only used a heavy-duty sewing machine.
Select the right design and fabric weight to get started.
Heavier denim is for more structured garments like outerwear and bottoms and fitted dresses where it is recommended to use heavy denim fabric, while lighter denim is great for flowing garments.
Replace the all-purpose needle with a jeans needle that is designed to punch through multiple layers of heavy fabric. You may select size 90/14 for lighter denim and 100/16 or 100/18 for heavy denim.
Ensure that grain lines are aligned correctly when cutting. When incorrectly cut, denim fabric may result in puckering when sewn.
Make sure that every piece is cut straight either lengthwise or crosswise if necessary.
Denim is very bulky fabric, so use lighter interfacing where it is needed, especially on the waistband to give structure.
Always reinforce seams by topstitching. Many denim garments get a lot of stress from wear and tear of the heavier material. So applying topstitching from the right side actually provides extra support on regular seams to join the fabric.
Set the machine on a longer stitch length, about 3mm, and adjust the length and tension according to the weight of the denim fabric.
Use denim friendly stitches such as chain, topstitching, and overlock stitches to finish the seams. Always press denim with high heat setting on the iron and use plenty of steam to set the fabric and stitching.