*This post may contain affiliate links. Please see my
disclosure
to learn more.
It can be overwhelming when trying to understand all the different types of stitches on sewing machine and what the proper uses are. From straight to zigzag and buttonhole stitch, there are many stitchings to choose between.
Whether you have a Singer or Brother sewing machine, the built-in stitches will make the sewing experience much easier.
What are the different types of stitches on a sewing machine? There are 12 stitch types that basic home sewing machines provide: straight, zigzag, overcasting, knit, stretch, blind hem, buttonhole, satin, edge, locking stitch. Depending on the model of the sewing machine, you may find more decorative stitch options.
The majority of modern sewing machines for beginners give you ample choices of stitches. These different types of stitches on sewing machine should be understood as per their purpose, however many sewers don't understand how to use all of the stitches.
In this article, some of the primary stitches are explained to help you comprehend the different types of sewing machine stitches. Answered below are frequently asked questions about types of stitches on a sewing machine.
Sewing machine stitch symbols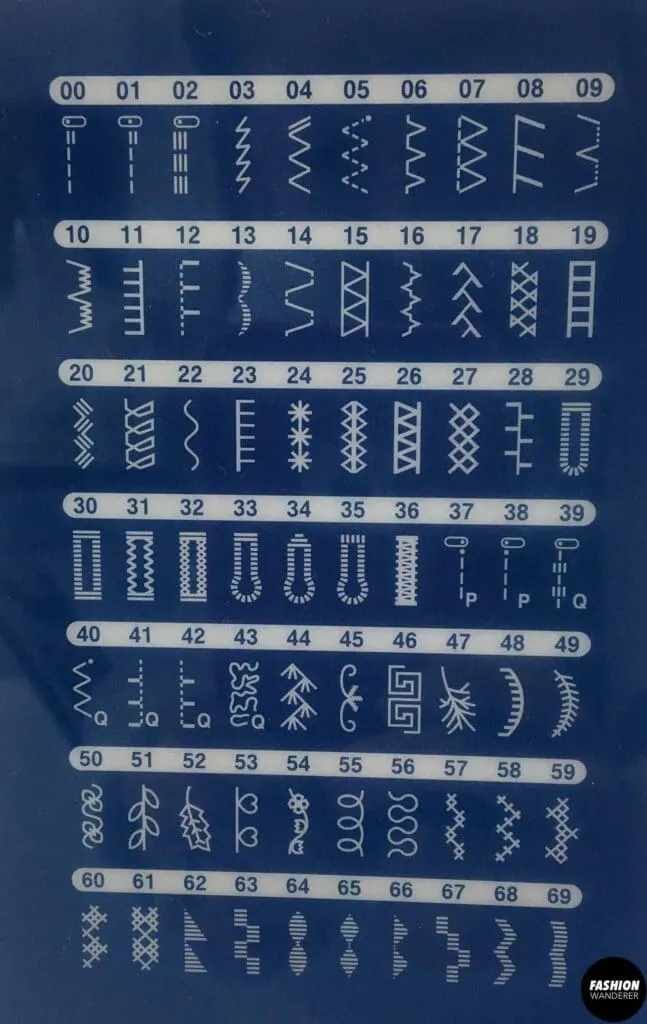 In general, sewing machines provide the primary stitches with their symbols paired to numbers. These symbols are for an understanding of how the stitch looks like and its intended purpose.
Some of the sewing machine stitch symbols include:
Straight stitch: Generally indicated with 00 or 01 on the sewing machine and is used for almost everything. Straight stitch is a primary stitch that can be altered in its width, which determines the needle movement. The default position of the needle is far left. A center straight stitch is for zip sewing and can't be altered.
Backstitch: This is also called the triple straight stitch or stretch stitch, and referred to as symbol 02. The backstitch goes one stitch back and two stitches forward. The seam is stronger and used for armhole, crotch seams, and stretch fabrics without snapping off.
Lightning stitch: Also known as a stretch stitch or 03 on the sewing machine, and looks like a very narrow kind of zigzag stitch. Lightning stitch benefits stretch seams that can't be pressed to open.
Zigzag stitch: Generally it is presented as 04 with a criss-cross line symbol and is the most common stitch for neatly edging fabric ends. Stretch sewing, satin stitching, bar-tacks, and automatic buttonholes can be stitched with zigzag stitch. To sew elastic and badly fraying fabrics, use a triple zigzag stitch.
What should sewing machine stitches look like?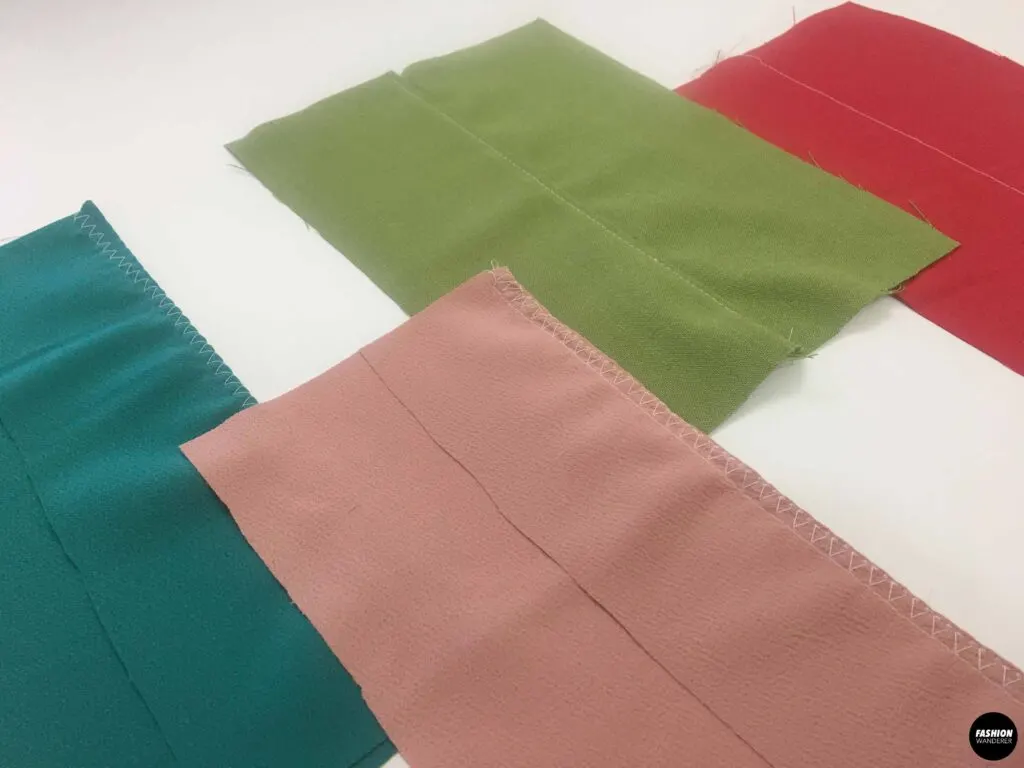 Whether using a new or old sewing machine, the stitches should be done correctly and with sufficient tension. Proper stitches look clean and do not have puckering, and the right side and wrong side fabric have no loops on each stitch.
Be aware that too much tension can tighten the stitch while looser tension loosens the stitching. The rule of thumb is that the stitch should hold the fabric in place without ripping it apart and holding it with the right tension and strength.
The two basic stitches that most sewing projects use are straight stitch and zigzag stitch.
Depend on the width and fabrication, a straight stitch may look teeny tiny after stitching, and can be altered by adjusting its width.
Standard width for different types of stitches:
The majority of the sewing is carried out in the 2 to 2.5 range.
Topstitching is generally done in a 3 to 3.5 range.
Gathering stitches and basting are the longest width from a 4 to 5 range.
Zigzag stitch is dependent on stitch width and stitch length as it is used as a decorative and fabric edging stitch.
Tension regulations should be correct for the stitch to be neatly executed. Also, width determines the right amount of looping of lower bobbin threads with the top thread.
Test on fabric scraps to find the correct tension prior to beginning the sewing project.
The force should be the same to get the right stitch numbers on an average so the stitch looks nice. Simply adjust the knob to get the right tension and avoid mis-threading to prevent ugly or skipped stitches.
What are built-in stitches in a sewing machine?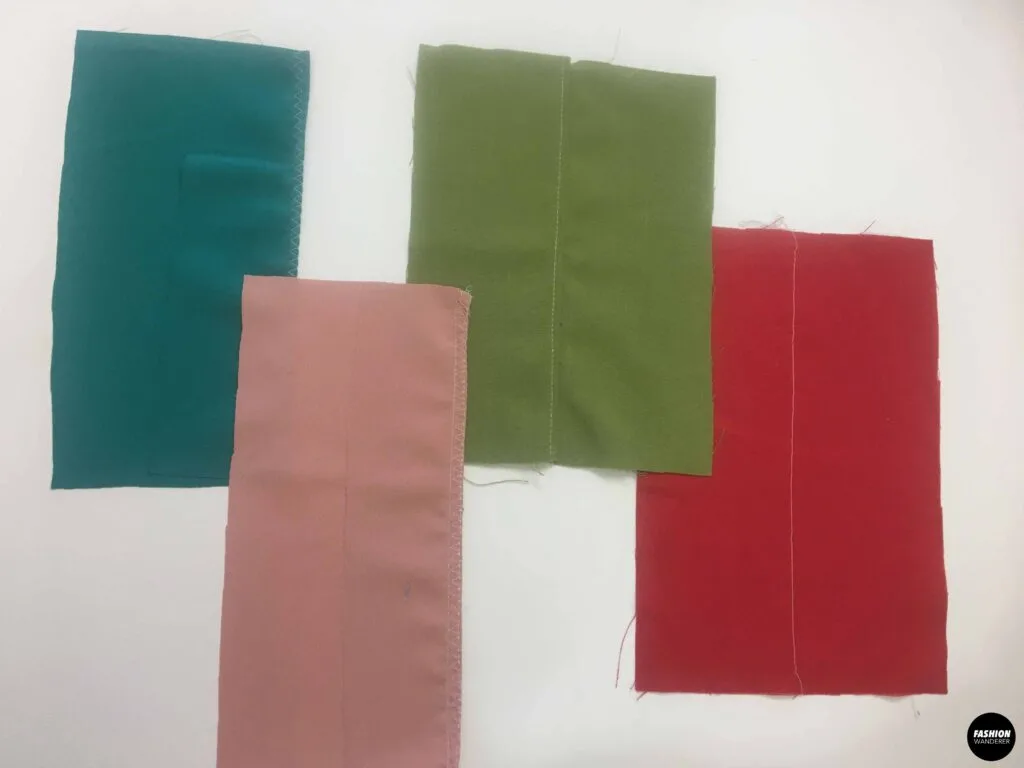 Built-in stitches are the programmed stitches on the sewing machine that create the needle movement appropriately to make that particular stitch. Each stitch is different and programmed to different needle movements that require specific sewing foot and tension or width settings.
If you are new to sewing, having various stitch options may be overwhelming at first but is a great choice when it comes to selecting a sewing machine to grow into. The built-in stitches cover basic stitches that most sewing projects require, in addition they offer decorative stitches for finishing touches.
Some built-in stitches included in the majority of the modern sewing machines are:
Zigzag, straight, blind hem stitch for mending clothes.
Overlocking or overcasting stitch for making clothes.
Stretch stitches for stretchy fabrics
Decorative stitches for quilting, crafts, scrapbooking, edging delicate and lace fabrics.
Machine embroidery
Evaluate sewing projects that you are working on to select the most proper sewing machine with built-in stitch options. The more stitches you have to choose from the better it will be for the longterm.
However, not all stitches are used for every occasion. So, choose a sewing machine that covers the basic stitches very well with a few advanced options for you to grow.
Strongest sewing machine stitch
The strongest sewing machine stitch is a straight stitch because it is tough to tear. A straight stitch layers the thread and makes it strong.
By combining this basic stitch with polyester or long-lasting nylon thread, the durability is doubled.
When using a straight stitch, make sure to select the correct needle and thread based on the fabrication to prevent damaging the fabric or sewing machine. As a result, you will have durable stitches that hold the fabric intact with multiple thread layers on top of one another.
Trying to pull the thread is like tearing many threads all at once, which is tough to do. In fact, tearing can result in ripping the fabric before breaking the multilayered stitching.
The additional layers of the thread keep the fabric together, no wonderer why it is the most common stitch to sew two fabric pieces. By sewing it twice, or with thicker threads, it becomes even stronger.
Basic types of stitches on sewing machine
Most sewing machines at least have these 12 types of stitches that are common for sewing DIY clothing. The already built-in stitches are useful to finish hem or sew buttonholes to accomplish a professional look.
Straight stitch: This is the strongest and most durable stitch in the sewing machine. It is the most commonly used stitch that is created using double thread in a sewing machine, one on the top and one in the bobbin.
Stitch forward and backward, or backstitch, on a piece of fabric by placing the needle in the seam allowance between ⅛ inches-⅜ inches from the edge. Generally, it is used for stay stitching, topstitching, and seaming.
Basting/gathering stitches: This is a long stitch lengthened straight stitch for gathering the fabric. Just increase the length to make it easier to remove the basting or evenly gather the stitches.
Zigzag stitch: This is a finishing technique to edge the fabrics, used for both edging and decoration. The zigzag stitch is great alternate option if you do not have overlock stitch or serger machine. Simply add straight stitch along the seam allowance for woven fabric or secure the fraying edges with this stitch.
Satin stitch: Enhance the width of the stitch using a zigzag foot, and then lower the stitch width. It is used mostly in embroidery to fill in the design and you can sew appliqués, letters, monogram, and finish edges.
Stretch stitch: This is a narrow zigzag and employed for stitch on knit fabrics. The stitch aligns with the fabric stretch so when you pull side ways, the stitch will stretch out and won't break. It is also used to mend tears and join elastic band to the fabric.
Rolled edge stitch: This rolls the fabric cut edges and employs a zigzag stitch. This requires a special foot called a hemmer foot to make the rolling edges.
Blind hem stitch: It comprises of 2-3 straight stitches with a wide zigzag stitch. The fabric is folded away to protecting the fabric. On the right side, you will see tiny dots that create a perfect hemming technique.
Overcasting stitch: This is employed to neat fabric edges, make shell-tucks and picot edges, but you will need to use an overcast presser foot for this stitch. When using knit, switch to overcast stitch instead of straight stitch.
Insertion/faggoting stitch: This stitch joins two pieces of fabric with cross-stitch in an abutting seam. It is also called cross stitch.
Ladder/rampart stitch: This stitch is employed to create channels for ribbon and elastic.
Overlock stitch: It is identical to a serger stitch that edges and hems the fabric edges. In some machines, you can get a stretch overlock stitch for the knit fabric.
Decorative stitches: A modern sewing machine comes with several or at least some of the decorative stitches that are used for decoration, seaming, edging, and hemming.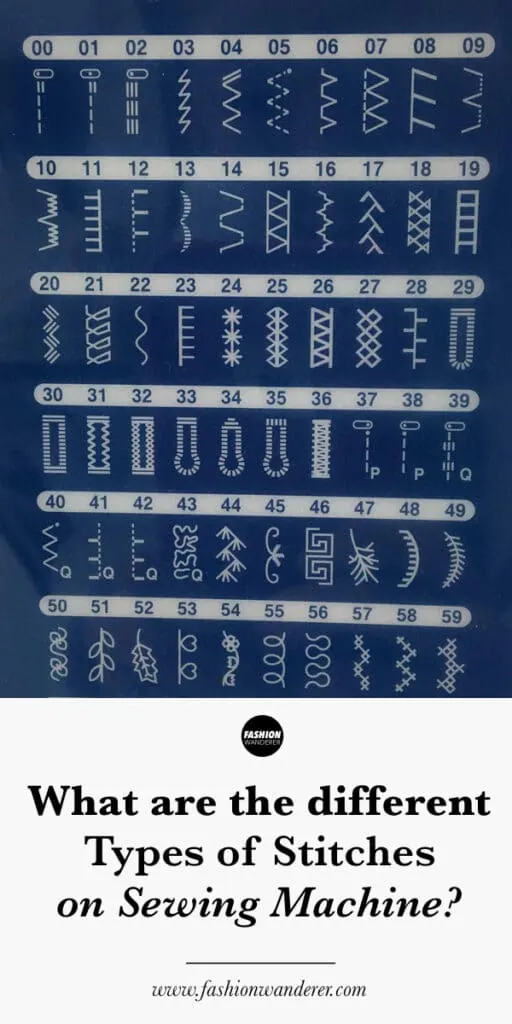 Types of Stitches on Sewing Machine: Final Thoughts
With different types of stitches on a sewing machine, you can hem, seam, protect, seal the edges, and much more. These options help you to sew any garment complete from start to finish.
From buttonhole to blind hem finish for shift dresses, having a sewing machine that provides a variety of stitching can have a positive impact on your progress.
Most durable and strongest stitch is the straight stitch. With the straight stitch, you can manage to sew darts or topstitching to strengthen the garment.
If you master how to sew straight on a sewing machine, it is easy to apply different type of stitches on the garment with ease.
Always test the tension and stitch on a scrap of fabrics. Also, choose the right needle and thread based on the fabric you are working on to avoid any issue.
With a specialized sewing foot and technique, you will be able accomplish every stitch you need to make DIY clothing. Follow these sewing tips to select the correct types of stitches on a sewing machine and review the manual to properly work on extra built-in stitches if needed.