*This post may contain affiliate links. Please see my
disclosure
to learn more.
In order to fully benefit from every wash cycle, it is recommended to understand details for how to use LG washing machine properly. There are a variety of models and options to choose from, so we'll cover the important features.
From the ability to wash two loads at once to a wifi enabled front load washer, decide what works best for your lifestyle. Let's learn how to use LG washing machine so that you fully take advantage of all the built in functions.
A washing machine makes laundry an easier chore compared to hand washing delicate clothes at home. Learn how to use LG washing machine so that you get the best performance from you laundry machines.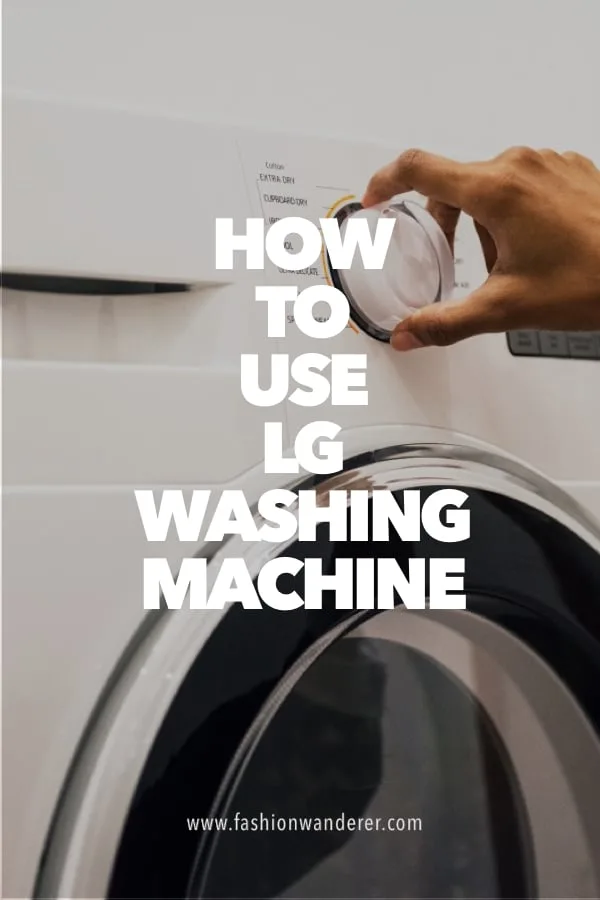 How To Use LG Washing Machine
If you have been throwing all clothing types into one wash cycle, you might need to change your laundry habits. As a result, you will maintain the bright colors and improve the lifespan of your high quality capsule wardrobe pieces.
With proper washing machine tips, you will resolve laundry problems:
Whether you are washing or cleaning any stains, it is recommended to use homemade laundry detergent recipes. This will help to prevent damage to the machine as well as any garments and materials.
How do I start my LG washer?
According to the consumer report, LG washing machines are voted the best front load washer. The consumers really love the added TurboWash feature.
Simply press the power button and turn the knob to select a cycle. Press the "Start" button to begin the selected cycle. Add steam or extra fresh water rinse based on your clothing.
How do I reset my LG washing machine?
If for some reason you encounter an LE error code on the display, resetting the LG washing machine will normally resolve any problem. In addition, a reduced load amount may correct the issue.
Simply press "Power" button to turn off the washer. Then, unplug it from the power outlet or even turn off the circuit breaker.
Next, press and hold the "Start/Pause" button for 5 seconds. Finally, plug-in the washer or turn the circuit breaker back on.
LG Washing Machine Cycles Explained
Not all LG washing machine cycles work the same for each type of fabrication. Make sure to read through the instruction manual to give proper care for every clothing item.
Learning how to use LG washing machine will increase the lifespan of your quality capsule wardrobe pieces. Understand how the different settings work, and why separating clothing by fabric type is important.
Cotton/Normal
The cotton or normal cycle is the most popular washing cycle that is most often used for jeans, towels, shirts, and sheets. The average temperature for this cycle is approximately 104 Fahrenheit and runs for 58 minutes. It might vary based on load size and additional options selected.
Pro tip: Do not use this cycle for wool or silk fabric.
Handwash
The hand wash cycle works best for extra delicate fabrics such as dress shirts, blouses, nylon, and lace garments. The average temperature for this cycle is approximately 77 Fahrenheit and runs for 34 minutes.
Here are specific cleaning instructions for some delicate fabrics:
Heavy Duty
The heavy-duty wash cycle should be used for heavyweight cotton fabrics. The average temperature for this cycle is approximately 104 Fahrenheit and runs for 100 minutes.
LG Washing Machine Cycle Times
There are two washing machine types and both do not have the same cycle times. The top loading washing machine cycle time is about 58 minutes and the front-loading washing machine cycle time is about 118 minutes.
The reason why it takes longer is that it takes time for the commercial detergent molecules to interact with the dirt molecules.
How To Use LG Front Load Washing Machine
Understanding the proper ways to use LG front load washing machine with TurboWash and LG Steam technology feature will help to clean your clothes in just 15 minutes.
First of all, pick the right place to install your washing machine. An indoor area where you are able to avoid dampness and moisture is best.
Pro tip: For better air and water flow, it is recommended to install your LG front load washing machine with proper spacing. Leave at least 1 inch on both sides, and also 4 inches away from the back of the machine.
After sorting your clothes based on color and fabrications, open the dispenser drawer to add homemade laundry detergent recipes and any fabric softener.
Next, select the cycle and start the washer by pressing the "Wash" button. Make sure to press the right cycle setting for the type of clothing.
The TurboWash feature, helps to quicken the soaking time and the LG Steam feature removes the dirt, odors and wrinkles from clothes.
How To Use LG Washing Machine Top Loader
Knowing how to use LG washing machine top loader will save you from struggling with difficult stains and also saves time when doing laundry. The top load style comes with a pre-wash feature. 2 minutes of agitating followed by 2 minutes of soaking for a total of 8 minutes before the normal wash cycle begins.
First, sort the clothes based on the same wash cycle. Always make sure to empty all pockets and close zippers to prevent any snagging or tears.
Next, add the detergent of your choice by opening the dispenser drawer. In addition, add bleach or fabric softener if needed.
Turn on the washer by pressing ON/OFF button and you will see the lights around the knob illuminate. Select the cycle based on your laundry assortment. After selecting any additional cycle or feature, press START/PAUSE button to begin the cycle.
How To Use LG Fully Automatic Washing Machine Front Loading
If you have capsule wardrobe essentials and have been washing with the same cycle all the time, its time to know how to use LG fully automatic washing machine front loading style.
This model features 6 motion direct drive technology that includes step, filter, scrub, tumble, roll, and swing. The drum rotates to wash the fabric with fewer wrinkles and protects the material from damage.
The best part of all is that the Quick 30 minutes feature lets you complete a wash cycle for any garments in just 30 minutes.
Evaluating the amount of load is tricky due to lightweight or heavyweight fabrics. The Fuzzy Logic Control helps to detect the laundry load and automatically sets the washing conditions.
How To Use LG Washing Machine Direct Drive
Direct Drive is the new technology designed by LG that results in a noiseless and vibrationless washing cycle.
Compared to other brands, LG Direct Drive does perform better. When selecting the wash cycle, set the water temperature separately for any delicate clothes.
The LG washing machine direct drive works the same as other washer machine models. If you are looking for an economical washer, this saves a lot of energy and also uses less water.
Having unique featured LG front load or top load washing machine makes it easier to clean and care for your capsule wardrobe pieces.
How do I clean my LG washing machine?
Proper cleaning and care hacks for a washer machine are important to prevent any damage or worn out equipment. It is recommended to regularly clean your LG washing machine to avoid any bacteria or dirt buildup.
To keep your washing machine in optimal performance, it is best to clean a washing machine regularly. Especially focus on the detergent drawer and the door seals.
All you need is white vinegar and baking soda.
First, fill the washer using hot water on a regular cycle.
Add a cup of white vinegar, and then close the lid to let the washer agitate for about a minute.
Next, add about 1/2 cup of baking soda and let the washer run for 30 minutes to 1 hour.
Use a toothbrush to clean around the top of the washer, knobs and the wash bin.
Let the washing cycle end and the water will drain completely. This way your washing machine is naturally cleaned without harmful chemical detergents.
LG Washer Tub Clean
Another way to clean a LG washing machine is to regularly use the LG washer tub clean feature.
For both front load and top load washers, this feature is a maintenance routine to keep the machine in optimal performance. Furthermore, it helps prevent any damage to the clothing.
Always remember to remove the dispenser and clean the tray before running the Tub Clean cycle.
Add a solution of 3/4 cup of bleach and 1 gallon of water. In addition, clean around the opening to the drum and inside of the door glass.
For front load washer, you need to manually drain it before cleaning the drain pump filter as well.
For optimal performance, use the Tub Clean cycle every 30 washes or once every month.
Pro tip: After running Tub Clean cycle, leave the washer lid open in order to dry out the inside of the washer.
Having a capsule wardrobe doesn't solve all the problems. It is important to know how to use LG washing machine to extend the lifespan of your favorite garments.
Complete clothing care requires knowing how to use your laundry machine the right way. As a result, you will enjoy clean clothes for all occasions.
Do you know how to use a LG washing machine?
Share your favorite cleaning tips with us!