*This post may contain affiliate links. Please see my
disclosure
to learn more.
Do you have remnant materials leftover and looking for what clothes to make with 1 yard of fabric?
It seems like too little to sew project such as skirts, dresses, or bag, which require more than 1 yard of fabric. However, there are various designs that you can make using a fabric yard.
What clothes can you make with 1 yard of fabric? Depending on the style and silhouette, you can easily make tops, dresses, bags, and accessories out of 1 yard of fabric. Also, if your fabric is 60 inch or 152 cm width by 1 yard fabric, you will have lot more options to sew compared to a fabric yard with 45 inch or 114 cm width.
If you have been throwing away 1 yard or less of fabric, you will want to reconsider saving the leftover fabrics from your previous projects. Whether you are working with a sewing pattern or making from scratch, Fashion Wanderer has the perfect solutions for you!
In this article, you will learn important details about 1 yard of fabric and what you can make with it. So, if you wondering what to do with those smaller pieces of fabric, be sure to grab one of the one-yard sewing patterns discussed below.
What Does 1 Yard of Fabric Look Like?
In order to find out what kind of sewing project option you have with 1 yard, you need to know how much fabric is in a yard.
In fact, ending up with extra fabric after cutting can be a waste of money. In addition, you can feel frustrated if you run out of materials halfway through the project and have to go back out again.
Textiles are made in different widths, thus a yard refers to the length of fabric only, and not the width. Let's explore how this works.
To know the size of one yard, unroll the fabric from the bolt and measure 3 feet or 36 inches based on 54 inches of width.
The part holding the fabric together is the bolt; despite the width of the material, a yard is equal to 36 inches measured from the selvage end. For any other fabric width such as 45 inches or 60 inches, the yard 36" long stays the same, however you have more space to play with.
Generally, when you stretch out your arms in both directions and hold the fabric along the selvage from one to the other, this determines a rough estimate of 1 yard.
This technique will help you to figure out how much fabric you need for pattern when purchasing at store.
Is a Yard of Fabric a lot?
Probably don't like visiting a fabric store every time when starting a sewing project. But, if you have one yard of fabric in your closet, that's all you will need to make something new.
There are different sewing patterns and projects that can be made using a single yard of material. These sewing projects are easy to make and will give you outstanding results to add to your DIY clothing wardrobe.
One yard of fabric has a length of 36 inches and a width of 45, 54, or 60 inches; this size is significant and can vary from roll to roll. However, it does not limit your usage.
When you start making clothes that require one-yard fabric, you may not want to go back to sewing garments that need more than a fabric yard.
Specific designs and styles require less than one yard of fabric in women's clothes. Try the Fashion Wanderer sewing patterns to create tops, dresses, bags, and more.
Is 1 Yard of Fabric Enough for A Dress?
Yes, 1 yard of fabric can be enough for some dress designs and sizes. Determine the amount of material you need to make the dress, however the standard requirement for many mini length dresses is 2 yards or more.
While a single yard may be more than enough for some dresses, it may not be adequate for other styles.
The number of yards you need for a dress depends on various factors such as body size, the type of fabric you are using, the style and design of your dress.
For example, if you want to make a tea-length dress, you are more likely to use 3 yards of material, while a long dress may require 5-8 yards.
One yard of fabric is not enough to make a bias cut or shirred dress unless you make simple dress with 60" width fabric. However, to make dress with 1 yard of fabric with 45" width is pretty impossible to achieve unless it is kid sized.
Tips to Make Clothes with 1 Yard of Fabric
Whether you are making skirt or blouse, there are more things to consider to make clothes with 1 yard of fabric. Other than the width of fabric, there are certainly tips to avoid wasting fabric and still be able to achieve sewing with limited yardage.
Consider choosing the appropriate patterns. Always go for patterns that will not need much fabric, such as camisole tops, shorts, and skirts.
Avoid cutting on lengthwise or bias. The appearance of pattern layout can affect the requirement of material. When cut biased, you might need more than one yard of fabric to make the same garment.
Check fabric requirements on every sewing pattern. This step is crucial, especially if you are a beginner.
Always prepare extra material. It will help you in case you want to make some adjustments to the design or make a mistake on a piece.
Get more material if you are using print patterned material. Stripe, gingham, or plaid require matching the motif to keep the design consistent, so extra fabric may be necessary.
Cut fabric in crosswise grain will make you require less material. Unlike straight grain line, which might require standard width and length.
Always know the proper fabric requirements to avoid wasting material. The more you practice, the easier it will be to estimate the correct amount for each design and size.
Sewing Patterns for 1 Yard of Fabric
There are many fantastic sewing patterns that you can make with only a yard of fabric. The patterns are easy to follow and straightforward to make any time.
From beginner to intermediate skill level, these Fashion Wanderer sewing patterns contain how-to picture instructions, detailed descriptions and video tutorials to guide you step by step throughout the process.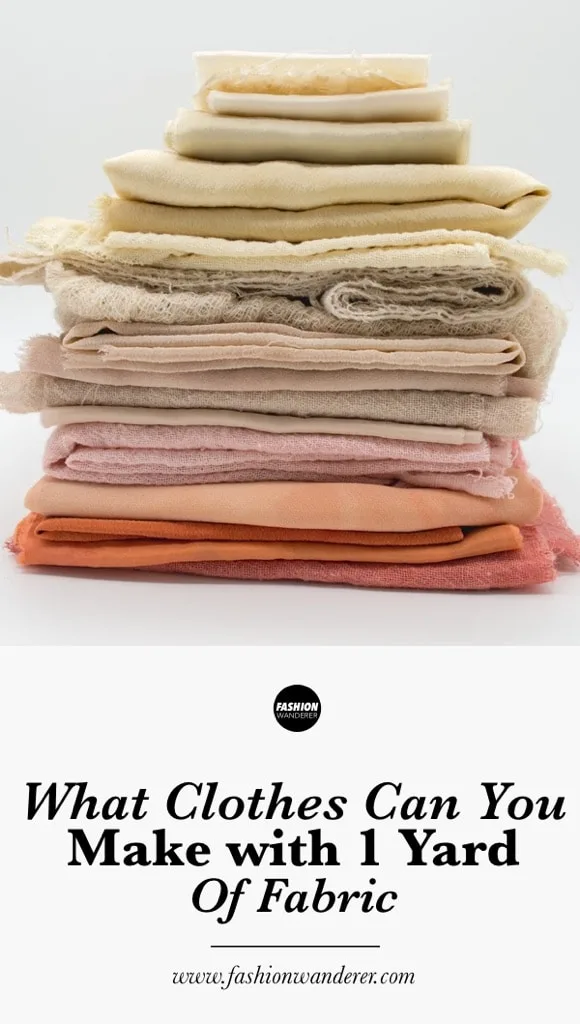 What to do with 1 yard of fabric: Conclusion
With 1 yard of fabric, you can make tops, skirts, and dresses in certain styles only. Depending on the width of fabric, 36" long of fabric can give more or less fabric to work with.
36" long equals 1 yard of fabric, no matter what width of fabric the bolt is. To find out how 1 yard of fabric looks like, start by holding the fabric straight on one hand and reaching it across to the other hand to estimate the length amount.
Whether you are running to the store to purchase fabric for sewing pattern or have loads of leftover fabric scraps 1 yard long at home, there are many usages for this limited yardage.
Working with sewing patterns, helps to achieve minimal waste on fabric and fit in pieces quite well on 1 yard of fabric. Adjust the sewing pattern so that all the pieces can be cut out of less fabric all together.
In Fashion Wanderer, you can find tote bags, backpacks, camisole tops, and slip dress sewing patterns to make with 1 or less than a yard of fabric. Review these sewing patterns and try yourself to save your remnant fabric.